Indonesia: 6.2 magnitude earthquake strikes Sulawesi island; dozens killed
At least 42 people have been confirmed dead and hundreds others injured.
---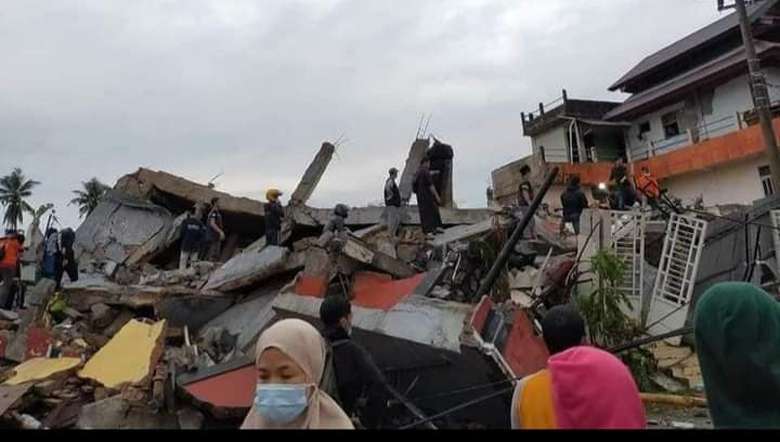 (PHOTO: Facebook)
---
At least 42 people were killed and hundreds others injured when a powerful earthquake of 6.2 magnitude on Richter Scale rocked Indonesia's Sulawesi island in the early hours of Friday, reports said.
According to the reports, the earthquake struck 6 km (3.73 miles) northeast of the city of Majene, at a depth of 10 km (6.2 miles), toppling a hospital and damaging several homes and buildings.
Many of the dead are buried beneath the rubble and at least 15,000 people have also been displaced to temporary shelters following the earthquake, the reports said.
At least eight people were killed and more than 600 others were injured in the neighbouring district of Majene alone, the Indonesian disaster agency said in a statement.
At least 300 houses and a health clinic were damaged and about 15,000 people were being housed in temporary shelters in the district, according to the reports.
More than a dozen patients and staff are trapped beneath the rubble of a hospital that was flattened by the earthquake in Mamuju city, North of Majene, the reports said, adding that Mamuju has reported at least 26 fatalities.
In 2018, a devastating earthquake of 6.2-magnitude on Richter Scale and subsequent tsunami struck the city of Palu in Sulawesi island, killing more than 4,000 people.
In 2004, a 9.1 magnitude earthquake off the north of Indonesia's Sumatra island triggered a tsunami that swept over coastal areas of Indonesia, Sri Lanka, Thailand, India, and nine other countries, killing more than 230,000 people.
 
First Published:
Jan. 15, 2021, 3:27 p.m.