Manipur: Left peasant unions stage hunger strike against farm laws in Imphal
Manipur Loumee Marup secretary Haobijam Ibobi said that the farm laws passed by the BJP-led NDA government is not in favour of the Indian peasants.
---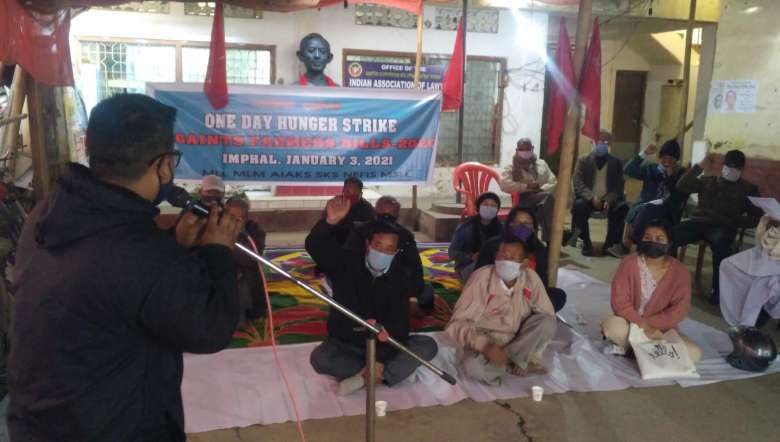 (PHOTO: IFP)
---
The Left peasant unions comprising Manipur Loumee Marup (MLM-affiliated to AIKS), Manipur Loumee Lup (MLL-affiliated to AIKS, Ajay Bhavan), Samyukta Kisan Sabha (SKS) and the All India Agragami Kisan Samitee (AIAKS) with North East Forum of International Solidarity (NEFIS) jointly organised a one-day hunger strike against the 'farm laws' at Irawat Bhawan, BT Road, Imphal on Sunday.
A release said that addressing at the hunger strike, secretary of MLL, Haobijam Ibobi said that the farm laws passed by the BJP-led NDA government in Indian Parliament in September 2020 is not in favour of the Indian peasants. He further said that the Central government is committed to serve their masters, the corporate world to get huge electoral bonds from them to purchase the electorates in the coming elections in the country.
Narrating the movement of Indian farmers and peasants since August, former secretary of MLM, Sarat Salam said that the Indian farmers are united irrespective of their caste, creed and communities. He mentioned that more than 11,000 peasants committed suicide in 2019. Recently, a young farmer in Madhya Pradesh committed suicide because he could not clear electricity bill, floor mill and his motorcycle was confiscated. A suicide note addressing to the Prime Minister Narendra Modi was found, in which he requested the Prime Minister to sell his organs to pay off the debts, the release said.
Protesting strongly against the laws and attitudes of the government, Sarat appealed to the people to actively support and participate in the farmers' movement to repeal the hated laws, it added.
It also said that leader of NEFIS, Khumukcham Chinglen expressed that the farm laws are not only against farmers but it is against the entire people of the country. Now, India is in 104th rank of the world hunger list and the hunger strike is a symbolic support to the struggling farmers of the country, he added.
CPI secretary, L Sotinkumar; CPI (M) secretary, Kshetrimayum Santa; MLM president, Yumlembam Jogendra; SKS leader, N Ratan; and AIAKS leader, M Nabakishore also addressed the public during the hunger strike, the release said.
It further said that All India Kisan Sangrash Co-ordination Committee has put forward certain demands which included convene a special Parliament session to repeal the farm laws; make minimum support price (MSP) and state procurement of crops a legal right; assurances that the conventional procurement system will remain; implement Swaminathan Panel Report and peg MSP at least 50 per cent more than weighted average cost of production; cut diesel prices for agricultural use by 50 per cent; repeal of Commission on Air Quality Management in NCR and the adjoining Ordinance 2020 and removal of punishment and fine for stubble burning; release of farmers arrested for burning paddy stubble in Punjab; abolishing the Electricity Ordinance 2020; Centre should not interfere in state subjects, decentralisation in practice; and withdrawal of all cases against farmer leaders and their release.
First Published:
Jan. 3, 2021, 8:47 p.m.