22 convicted in drug cases, massive liquor seized in dry state Manipur in 2020
Under the government's 'War on Drugs' initiative, a total of 257 cases were registered.
---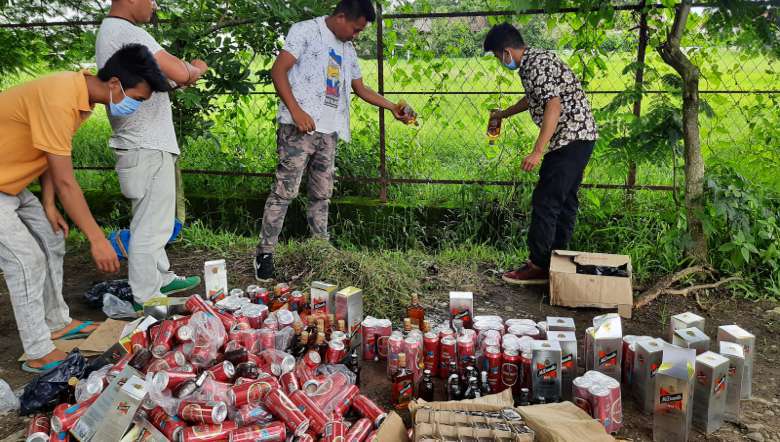 File Photo: IFP
---
Manipur, a dry state under the Manipur Liquor Prohibition Act, 1991, never runs dry of liquor. Despite the restriction on the sale of liquor in the state, it thrived in the black market. The police have seized a huge amount of liquors and manufacturing items in the year 2020. As many as 257 cases were also registered and 22 persons were convicted under the Narcotic Drugs and Psychotropic Substances Act (NDPS).
According to a report issued by Manipur Police Department official W Basu, a total of 43,68,954.5 litres of distilled indigenous country (DIC) liquor; 1,929 bottles, 24,863 litres and 14 cartons of Indian Made Foreign Liquor; 534 bottles of cane beer; two half bottle of Kalten bery beer; 18.5 litres of grape juice; 10 buckets and nine pots of local wine and 6,790 pieces, 10 fertilizer bags and three cartons of yeast (hamai-used as one of the main ingredient in manufacturing DIC liquor) were seized during various drives conducted across the state.
War on Drugs: Under the government's 'War on Drugs' initiative, a total of 257 cases were registered. Of the total cases, 19 were convicted under the NDPS Act and 22 persons were convicted under the same Act. And a total of 2847.5 acres of poppy were destroyed.
Among the cases registered under the NDPS Act, 72 cases were related to the seizure of heroin powder which was maximum cases registered in the total cases. As many as 48 cases were registered in connection with the seizure of brown sugar and 39 cases registered related to the seizure of WY tablets.
Following the state government's policy on the anti-drug campaign, district police along with the district administration organised 'Nasha Mukh Bharat' campaign on December 9 at Tuibong, Churachandpur district.
Crackdown on insurgency: In the struggle against insurgency, as many as 313 insurgents were arrested in connection with the counter-insurgency operation. At least 51 different items of arms and ammunition, including explosive devices, were seized in 2020.
Other crime cases: The police report mentioned that in different police stations of Manipur, a total of 3,151 FIR cases in connection with different crimes were registered, 459 cases were charge-sheeted and final report of 1,406 cases were submitted.
Seizure of Stolen Vehicles: Regarding stolen vehicles, a total of 48 vehicles, including four-wheeler and two-wheelers were recovered.
The crime rate was negligible during the initial period of lockdown which was enforced from the midnight of March 22 in various districts of Manipur.
To check the movement of people along the international boundary of 79.5 kilometre long, regular patrolling activities were conducted by the personnel of Behiang police station and Singngat police station in coordination with Assam Rifles.
Fight against Coronavirus: To prevent the spreading of coronavirus from across the Myanmar border, preventive border fencing were erected from the border pillar number 73 near Yangoubung village to border pillar number 87 near Saibol village fo Tengnoupal district at strategic locations.
The state government suspended international trade to prevent from the spread of COVID-19, various items were seized by the state police along with security forces along Imphal-Moreh road.
Fine against MVA violation: During the lockdown imposed in the state to prevent the spread of COVID-19 and under violation of the Motor Vehicle Act, a total of 20,093 persons were detained and a total fine of Rs. 32,25,690 and Rs. 5,34,750 were collected under violation of the MV Act.
Lockdown violators detained: During the initiatives taken by the state police regarding the detention of lockdown violators, Thoubal district detained a maximum number of violators marking with 45,836, which is followed by Bishnupur district with 20,380 violators. However, Imphal East and Imphal West which is the most congested area in the state detained a total of 4,778 and 18,750 respectively. Apart from the lockdown violators detained in different districts no records on detention of lockdown violators were found in the report issued by state police department PRO.
Bishnupur district police on January 22 and as a part of community policing, a 'Police Community Liaison group' (PCLG) was set up. PCLG was set up to give awareness to the people for opportunities as experiences to build a good partnership with the police for a better society as a whole. The district police also raised a VDF personnel band on January 22, according to the report.
First Published:
Dec. 31, 2020, 10:31 p.m.