Manipur Student's Federation seizes betel leaves in Imphal
The MSF team seized five baskets of betel leaves worth approximately 2.5 lakh from airport road o Thursday.
---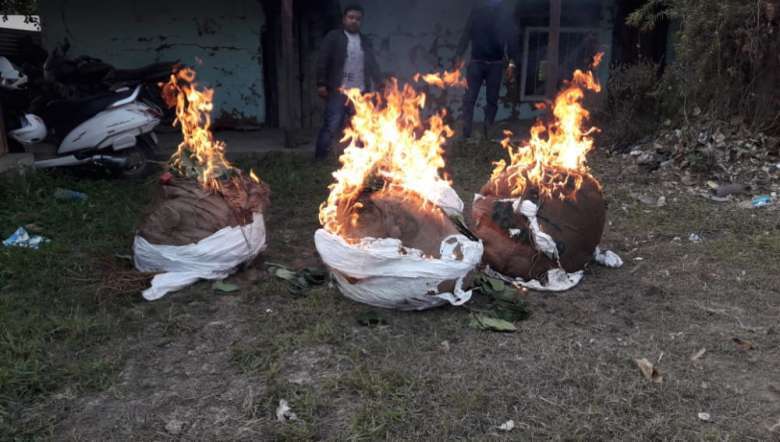 (PHOTO: IFP)
---
Five baskets of betel leaves worth approximately 2.5 lakh were seized by a team of Manipur Student's Federation (MSF) from airport road in Imphal on Thursday. The seized betel leaves were burned and disposed of by MSF volunteers.
Speaking to the media, secretary MSF Affairs on Drug Use Prevention Oinam Premdash Singh said that the state has become a trading place for betel leaves, and those involved in the business have already forgotten that the people are still facing the impacts of COVID-19 pandemic.
From a reliable source, MSF received information of betel leaves being transported from the airport in an Eco Van, he said. A team of MSF followed the van and seized betel leaves. It has been confirmed that the betel leaves were brought by Kanglei Transport and the identities of some managers are also known, he added.
Betel leaves have been seized many times from different places; however, their transportation into the state still continues unabated, he said. Due to the prevailing pandemic, the people of the state are facing shortages of many essential items, he said. Not only betel leaves but other drugs are also being imported into the state, he further said while adding MSF does not take such activities lightly.
He said that MSF has found out the sources of transportation and identified those who are involved. Their names will be disclosed soon, and MSF urges the people to co-operate and extend support on such steps, he said. MSF has started organising orientation and awareness programmes on the ill-effects of drugs to protect the youth from its harms. The organisation will continue its work of seizing betel leaves, he said.
First Published:
Dec. 24, 2020, 8:45 p.m.