Rs 1350-crore project for Loktak Lake development approved: CM Biren
The CM said that state government is also giving priority to developing the tourism sector of the state.
---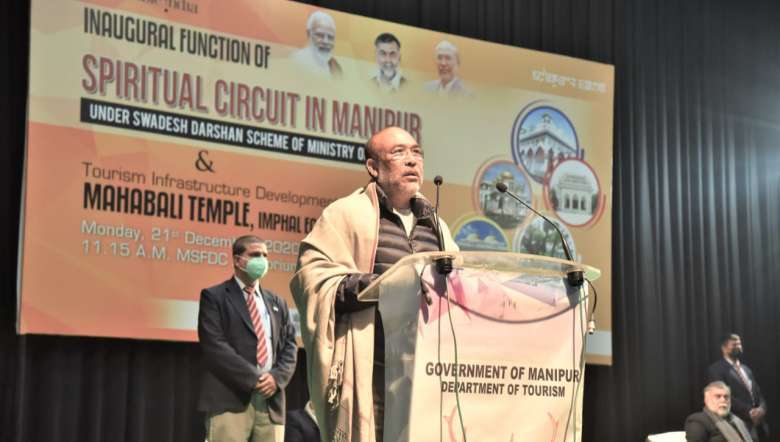 (PHOTO: Twitter/@NBirenSingh)
---
Manipur Chief Minister N Biren on Monday said that the Tourism Ministry has given approval for Rs 1,350 crore worth project proposed by the state government for comprehensive development of the Loktak Lake. 
Biren was addressing the inaugural function of a Spiritual Circuit in Manipur under Swadesh Darshan Scheme of the Ministry of Tourism and Tourism Infrastructure Development around Mahabali Temple, Imphal East.
The chief minister in the presence of Minister of State for Tourism and Culture in-charge Prahlad Singh Patel and other ministers and MLAs inaugurated the Spiritual Circuit in a function held at the Manipur State Film Development Corporation.
Spiritual Circuit which consisted of five components namely Shree Govindajee Temple, Shree Bijoy Govindajee Temple, Shree Gopinath Temple, Shree Bangshibodon Temple and Shree Kaina Temple was developed under Swadesh Darshan Scheme of Ministry of Tourism with a sanction amount of around 53 Crore Rupees. 
Speaking at the occasion, Biren stated that Manipur is endowed with natural beauties. As such, developing international tourism will not be a difficult task. The state government is also giving priority to developing the tourism sector of the state, he added.
The chief minister also sought public support in all the developmental works taken up by the government. He further said that Prahlad Patel who also visited the state museum expressed his desire to extend help and develop it.
Prahlad Patel said that Manipur has rich culture and tradition and tourism potentials which are not fully explored yet. 
Stressing on the importance of preserving the cultures and traditions, he stated that preserving and promoting them would play a key role in maintaining peace in the state and in the world.
Meanwhile, director of Tourism, Manipur W Ibohal Singh said that the Spiritual Circuit project was sanctioned in the year 2016 and the total project cost is Rs 53.76 crore.
Ibohal said that the project included beautification of the spiritual areas and promotion of culture by providing accommodation facilities to the visitors to promote tourism. He said that ecotourism projects in Cheiraoching and Khankhui Cave tourism projects are likely to complete within January or February next year.
The next project is ecotourism project near the world's highest railway bridge at Noney with a cost of Rs 3 crore and ecotourism destinations in each assembly constituencies in the state, he added.
First Published:
Dec. 21, 2020, 8:59 p.m.