Manipur closes six Covid Care centres as positivity rate continues to dip
Covid-19 situation in Manipur has been improving as new cases have been consistently less than 100 per day since the last few days, state health services director Dr K Rajo said.
---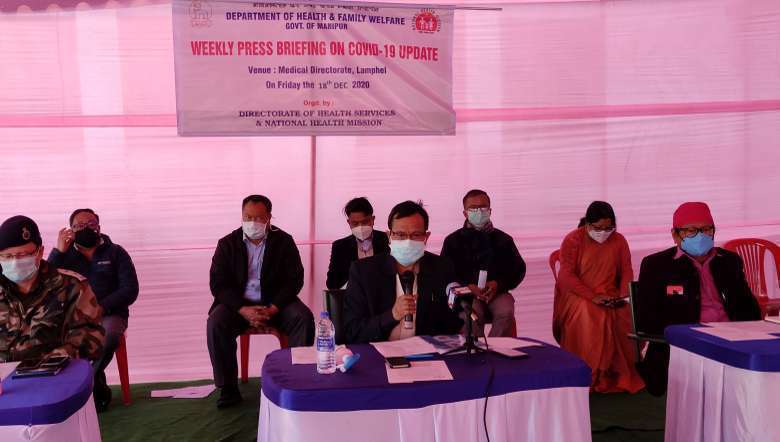 (PHOTO: IFP)
---
Six Covid Care Centres (CCC) in Manipur have been closed down in view of the gradual reduction of COVID-19 cases and an increase in the number of home isolation, health services director Dr K Rajo said in Imphal on Friday.
Dr Rajo informed reporters during the weekly briefing on COVID-19 that the Covid situation in the state is improving as new cases have been consistently less than 100 per day since the last few days. Hence, CCC UNACCO, Meitram; Bal Bhawan; RD Wing Lamphelpat; Lamding Higher Secondary School, Thoubal; Model Residential School, Noney and CCC Savana Mandap in Churachandpur have been closed since Thursday.
However, as a few people are still succumbing daily due to COVID-19, the government is putting efforts to control the mortality rate as well, Dr Rajo said. He said that though six CCC were closed down from December 17, every district will continue to have at least one CCC for emergencies.
Dr Rajo also said that before December 13, the number of positive cases exceeded the recovery rate. However, after December 13, recovery rate surpassed positive cases. As such, the number of active cases which were above 3,000 before December 13 has been reduced to 1,872 on December 17, he said.  
The recovery rate from December 4 to December 13 was 87 per cent but it was increased to 91.97 per cent , he added.
The health director further noted that as per government's order, thermal screening centres at Mao and Jiribam Gates have stopped and from December 17, testing of incoming air passengers at Imphal International Airport was discontinued.
Dr Rajo further said that with an objective to provide effective healthcare service, the department is implementing the Disaster Management Act 2005 and the Manipur Essential Services Maintenance Act 2010. Subsequently, he stated, actions were taken against some health professionals who violated their service rules and launched agitation amid pandemic under these acts.
Six staff of the Directorate of Health have also been deputed at 100-bedded Dedicated COVID Block, JNIMS, to enhance the services, he added.
Meanwhile, state surveillance officer, Integrated Disease Surveillance Programme, directorate of Health Services Dr Somorjit Ningombam said that the ongoing serosurveillance which started from November 30 and will continue till December 19 has almost completed its surveillance works. Targeted samples of four districts namely Imphal East, Kakching, Churachandpur and Ukhrul were collected. However two villages of Ukhrul need to be re-surveyed due to less participation, he pointed out.
Dr Ningombam stated that as per the preliminary report, presence of antibodies was detected in 20 per cent of the total collected samples from Imphal West, 18 per cent in Churachandpur, one per cent in Ukhrul and five per cent in Kakching. In cumulative, antibodies are found in 11 per cent of the total collected samples, the surveillance officer said.
Taking part in the press conference, IGP, Manipur, Elangbam Priyokumar said that the police department has so far collected a fine of Rs 1,41,01,430 from altogether 1,04,070 violators of SoPs or guidelines of COVID-19. He stated that the department is putting efforts for effective implementation of the standard operating procedure to contain COVID-19 pandemic. However, the level of adhering to the SoPs is still not satisfying.
The pandemic is affecting every section of society. People's cooperation as a responsible citizen is much needed to fight the pandemic successfully, he stated while urging them to follow SoPs strictly.
ALSO READ: 
Manipur's COVID-19 caseload climbs to 27,540; 86 new positive cases in 24 hours
First Published:
Dec. 18, 2020, 8:35 p.m.