Manipur CM Biren inaugurates 'School Fagathansi Mission', distributes awards to students
CM Biren said that the government would also take up measures to award dutiful teachers as an encouragement to bring out more bright students.
---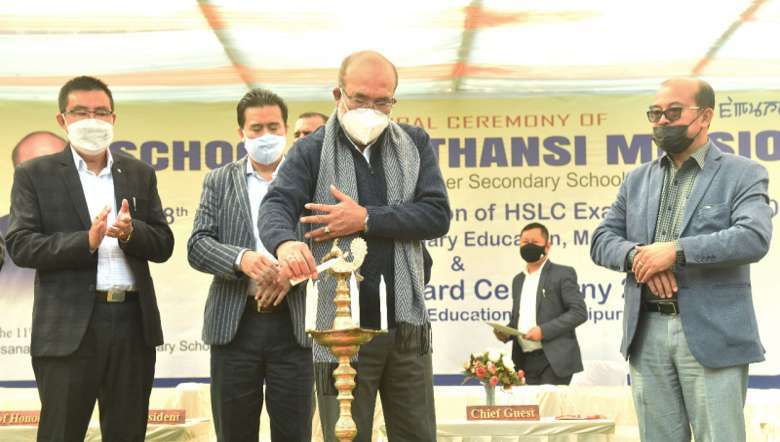 (PHOTO: Facebook)
---
Manipur Chief Minister N Biren Singh on Friday inaugurated 'School Fagathansi Mission' at Tamphasana Girls Higher Secondary School, Imphal West. He also attended the 48th Annual Prize Distribution of HSLC Examination 2020 conducted by the Board of Secondary Education, Manipur and Incentives Award Ceremony 2020 of Department of Education (S), Manipur.
The inauguration cum award distribution ceremony was jointly organised by Department of Education (S), Samagra Shiksha, Manipur and Board of Secondary Education Manipur.
Delivering his speech as chief guest, N Biren said that the award distribution to meritorious students was a part of the School Fagathansi Mission which was launched earlier this year at Moirangpurel High School, Andro assembly constituency, Imphal East. He further said that the presentation of the award was a kind of motivation to the students of government schools to work hard in their studies.
The chief minister said that students from poor families are unable to study in private schools due to their high fee structures. Hence, the development of government schools is much needed to increase enrolment of students which in turn would ease some of the financial burdens faced by poor families, he added.
He also expressed happiness with the increase in the number of position holders from government schools and also in the percentage of enrolment of students after the mission is launched. He further stated that the government would also take up measures to award dutiful teachers as an encouragement to bring out more bright students.
Biren also appealed to the students to be sincere and hardworking in their studies as they are the future pillars of the state. He assured that the government would put every necessary effort for the development of schools and students.
Works minister, Th Biswajit Singh said that development of a region depends on its human resources and it can only be achieved through education. Highlighting the need of studying history among the students, he stated that it would make them understand and maintain the aged old relation that had existed between different ethnic groups of the state.
Education minister, Sorokhaibam Rajen Singh in his presidential speech appreciated the initiatives by the chief minister to bring growth in the education sector through the School Fagathansi Mission. The mission had played a major role in infrastructure development and increased enrolment percentage in government schools which were earlier left in pathetic condition, he added.
He also informed that an awareness programme on National Education Policy will be conducted soon to make everyone aware of the new policy.
During the programme, Incentive Awards were presented to the students of government schools who secured positions in Higher Secondary Examination (HSE), 2020 and High School Leaving Certificate Examination (HSLCE), 2020. Awards were also presented to the district level toppers of the above examinations.
The function was also attended by MLA of Wanjing Tentha, Paonam Brojen; MLA of Jiribam, Ashab Uddin; commissioner of Education (S), T Ranjit; secretary to chief minister, Ningthoujam Geoffrey; deputy commissioner of Imphal West, Naorem Praveen; director of Education (S), L Nandakumar; and officials of Education department, Council of Higher Secondary Education Manipur, Board of Secondary Education Manipur, teachers and students.
It may be mentioned that School Fagathansi Mission was also inaugurated at three other schools including Eastern Ideal High School, Malom Mega High School and Ram Lal Paul Higher Secondary School.
First Published:
Dec. 11, 2020, 7:28 p.m.