Mt Koubru is for all Lords, not just Lord Koubru: Protesters
Mahousa KNBA Lup plans to lay foundation stone for construction of a religious temple at the peak of Mt Koubru.
---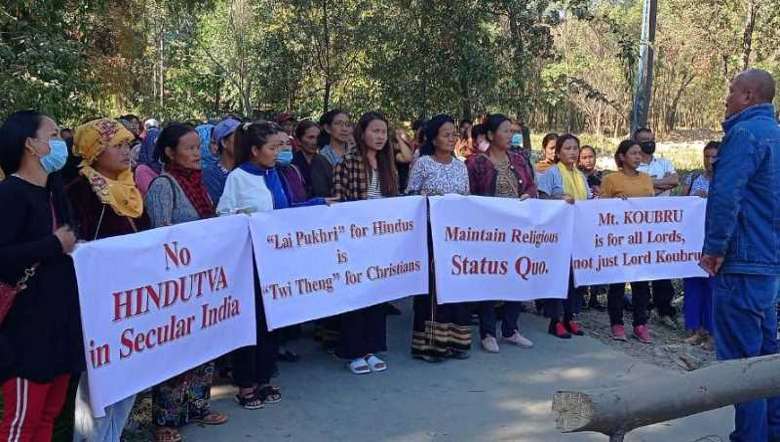 (PHOTO IFP)
---
Hundreds of people in Kangpokpi district held a demonstration at Mt Koubru range on Thursday against the plan for laying a foundation stone for construction of a religious temple by Mahousa KNBA Lup at the peak of Mt Koubru.
The protesters held placards which read, "Preserve Mt Koubru, Preserve Co-existence", "Mt Koubru is for all Lords, not just Lord Koubru", "Maintain religious status quo", "Lai Pukhri for Hindus is Twitheng for Christians", "No Hindutva in Secular India" etc.
An invitation for laying the foundation stone for construction of a temple in the presence of MP Sanajaoba Singh, under the aegis of Mahousa KNBA Lup became viral on social media a few days ago. In connection with the matter, the Committee on Protection and Preservation of Mt Koubru (COPPK) informed the general public that no Church, no Temple and no Mosque shall be constructed at Mt Koubru.
It notified the public that the committee would not in any manner allow or agree on any terms and conditions to erect or land foundation stone based on Church, Temple or Mosque at Mt Koubru.
COPPK further advised all concerned, including Mahousa KNBA Lup, to respect and acknowledge the status quo of Mt Koubru, stating that it should not become a 'bone of contention and contestation' irrespective of caste, creed, language and faith for peace and harmony.
It had also asserted that no platform or forum nor community should try to claim ownership of Mt Koubru based on particular religion or faith while advising the Mahousa KNBA Lup to withdraw or cancel such programme of laying a religious-based foundation stone as it may affect the ecological balance and detrimental to the interests of peace and harmony between different faith and communities in the state.
The stands of COPPK were endorsed and supported by various chiefs association and organisations including various civil bodies and the Kuki Inpi Kangpokpi district the following day.
The newly elected general secretary of Kuki Inpi Kangpokpi district Thangminlen Kipgen said a written memorandum has been submitted concerning the matter to the chief minister who conveyed his ignorance of the programme through the president of Kuki Inpi Manipur.
CM N Biren Singh told the Kuki Inpi Manipur president that such programme and plan of laying the foundation stone at Mt Koubru was organised without his knowledge, he said. The CM also assured the KIM president that he would request those responsible groups to consult him and the office of the chief minister before going ahead with the programme, he added.
The Kuki Inpi Kangpokpi district therefore once again appealed to the chief minister to look into the religious sentiment of all religious and not just a few while maintaining the religious status quo of Mt Koubru.
He also said that while the programme of Mahousa KNBA Lup is considered as in favour of one particular religious sentiment, several complaints have been brought to the organisation that construction of such temple at Mt Koubru is going to greatly affect the religious sentiment of the majority of Christians in the area.
"If the potential of such disturbances is not sorted out by the government, we would not be able to hold our people back and the government would be held solely responsible in case any untoward incident arises out of such activity," he added.
READ MORE
First Published:
Dec. 4, 2020, 1:49 p.m.