Drinking water bottle donated to COVID-19 patients at RIMS Hospital in Imphal
A total of 116 COVID-19 positive patients are undergoing treatment in the hospital.
---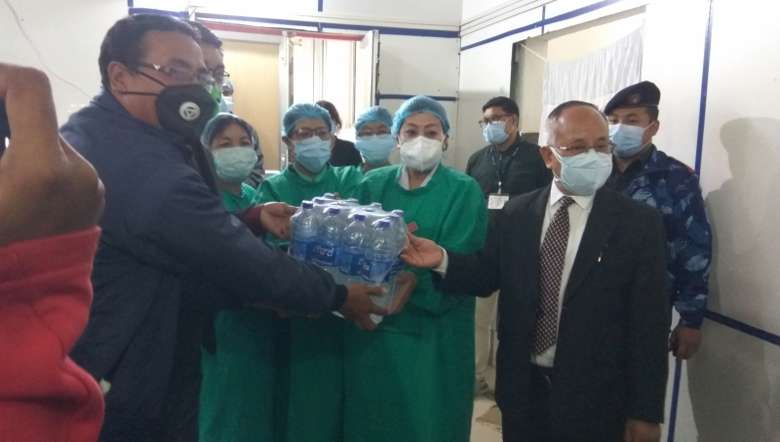 (PHOTO: IFP)
---
Volunteers of Mongshangei Kanba Apunba Lup on Tuesday donated drinking water bottles to COVID-19 positive patients who are undergoing treatment at RIMS COVID facility in Imphal.
Speaking to media persons at the COVID ward green zone of RIMS Hospital, Lamphel, medical superintendent of RIMS, Ch Arunkumar said the initiatives taken by a local body for donating drinking water is appreciated.
In the hospital, a total of 116 COVID-19 positive patients are undergoing treatment and the drinking water donated will be of help to the patients during their stay in the hospital, Arunkumar said. He said patients are allowed to used electric kettles for regular and frequent consumption of warm water.
Co-convenor of Mongshangei Kanba Apunba Lup, Soraisam Surendra said the local body has been giving logistic and medical items to the people, including medical directorate. In the past, the local body had donated 500 personal protective equipment (PPE) to the state medical directorate department in order to help fight COVID-19.
The logistic and medical items were donated under the sponsorship of convenor of the local body and will continue assisting till the end of COVID war, he added.
First Published:
Nov. 24, 2020, 7:33 p.m.