Advent Christmas, health camp for people living with HIV in Imphal
Around 50 people living with HIV from different communities took part in the Advent Christmas and health camp programme held in Imphal Monday
---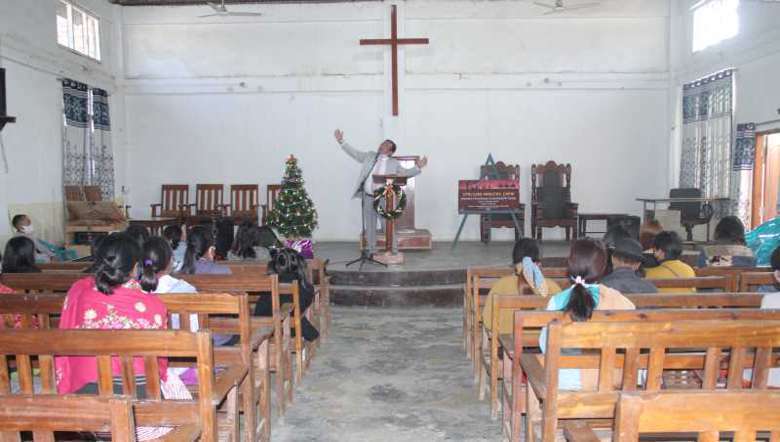 A special Advent Christmas-cum-health camp for people living with HIV was organised at Tangkhul Avenue, Imphal Monday.
The Indigenous Foundation executive director AC Raising said that persons living with HIV are having a hard time living during the COVID-19 pandemic since they are among the vulnerable groups. The programme was organised to motivate them spiritually and to help them forget their sufferings, he said.
The health camp was held after the celebration of the Advent Christmas programme. Vitamins, food supplements as well as warm clothes for the winter were distributed.
Raising appealed to all sections of the society to treat people living with HIV as a normal human being and that they should not be discriminated.
Speaking to the Imphal Free Press, programme coordinator of the Christian Network for Positive Women Manipur, Wonchung said, "I am extremely happy that such programme has been organised for people living with HIV at such trying times during the pandemic."
On being asked whether people living with HIV are being stigmatised in the state, she said that stigmatisation still prevails in the state. Because of stigmatisation, many of them have not been able to live a normal life which affects them mentally and it added to their health complications, she added.
She further said that there are instances where people living with HIV committed suicide due to stigmatisation.
Around 50 people living with HIV from different communities took part in the programme.
Local artistes presented special songs to entertain the gathering and several leaders delivered spiritual messages to encourage the people living with HIV.
The programme was jointly organised by The Indigenous Foundation, Union Tangkhul Baptist Church Care Ministry and the Christian Network for Positive Women. 
First Published:
Nov. 23, 2020, 7:27 p.m.