Remembering Indira Gandhi: Manipur Congress pledges to uphold unity of India, empowerment of its people
The Manipur Pradesh Congress Committee (MPCC) on Thursday paid floral tribute to former Prime Minister Indira Gandhi on 103rd birth anniversary
---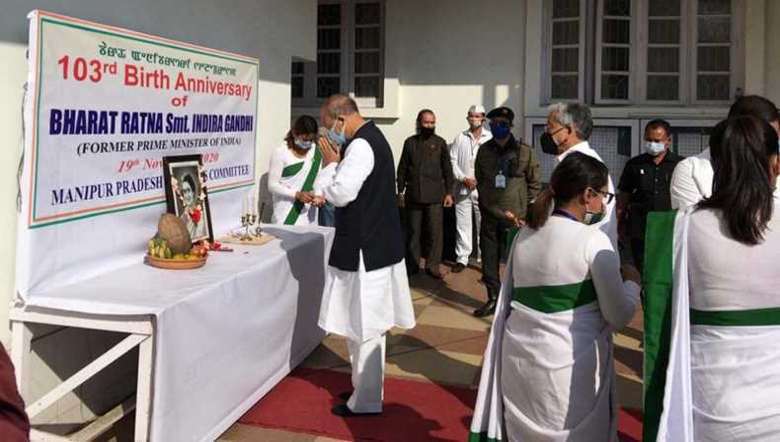 The Manipur Pradesh Congress Committee (MPCC) on Thursday paid floral tribute to former Prime Minister Indira Gandhi and pledged to uphold the unity of India and its people on Thursday.
Observing the 103rd birth anniversary of former Prime Minister Indira Gandhi at the Congress Bhavan in Imphal on Thursday, the MPCC held a gathering and paid floral tribute to the departed leader of the country.
The gathering was attended by MPCC president M Okendro, CLP leader Okram Ibobi Singh, CWC member Gaikhangam, Congress leaders and workers.
A pledge taking ceremony was held after the floral tribute. Okendro administered the oath and resolved to uphold the unity of India and its people. They also pledged to uphold Indira Gandhi's commitment to an inclusive democracy, empowerment of the people, freedom, unity and integrity of India.
Indira Gandhi, the only woman prime minister of India to date, was born on November 19, 1917, and was assassinated on October 31, 1984. She served as India's prime minister from January 1966 to March 1977 and again from January 1980 until her assassination in 1984, making her the second longest-serving Indian prime minister after her father, Pandit Jawaharlal Nehru.
In 2020, the Time magazine named Indira among world's 100 powerful women who defined the last century.
First Published:
Nov. 20, 2020, 2:10 p.m.