How feasible is NEP to society and education system in Northeast India
Several academic experts in Manipur are of the view that mother tongue is imperative for effective teaching and learning process.
---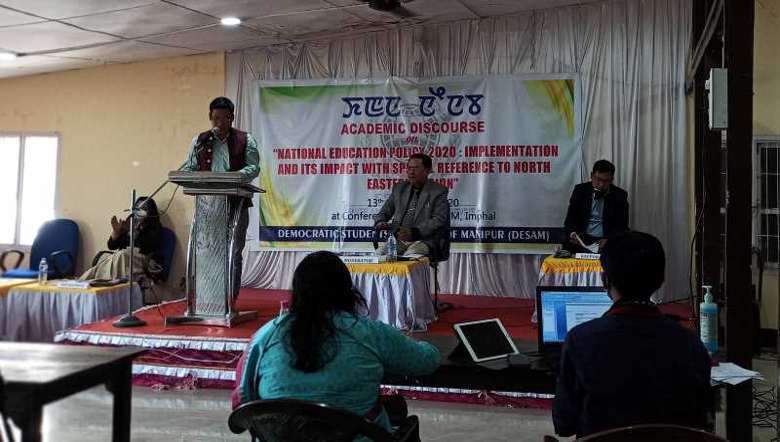 Examining the feasibility of the new National Education Policy with special reference to Northeast India, several academic experts have strongly expressed the view that the use of mother tongue is imperative for effective teaching and learning.
The experts held a discourse on "National Education Policy (NEP) 2020: Implementation and its impact with special reference to Northeast India" at the conference hall of COHSEM, Imphal Friday.
The academic discourse was organised by the Democratic Student's Alliance of Manipur (DESAM) to examine the feasibility of education policy to the society and education system.
To follow and implement the new NEP 2020, DESAM said people should understand the prospect, challenges and responses of the policy.
"We are living in an era of the information society, the need of the hour is the introduction of a relevant policy as well as the implementation of a high-quality education," the concept of the discourse stated.
The implementation of the new education policy started since July 29, 2020, but there is a need to understand critical appliances for quality education in the high technology era, secretary of education and academic affairs, DESAM, Longjam Robin said.
For quality education, UNESCO named four pillars: Learning to know; learning to do; learning to live together; learning to be.
Stressing on quality education for sustainable development goals, Robin said, "Many means have been adopted to get value education like skill development programmes, vocational education etc. While new education policy has become important for generation on implementation. Under NEP, it mentioned mother language for educating children. But in the state, knowing English is considered an educated person. Therefore, many parents send their children to private schools".
According to the ASER report 2018, 70.4 per cent of students in Manipur are schooling in private school, while India records 31 per cent students in private school. Also, Manipur has 60,000 per capita incomes but in education, more than a lakh is spent in education. On the other hand, the state government is providing free education in government schools. There is a need to understand such context while implementing the new education policy, Robin said.
Lauding the government for the approval for the integrated teacher's education programme in five colleges, Robin urged the government to fulfil the demand for amending the Manipur official language Act 1979 and implementation of it as an official script, to ban unfair means during examination.
Expressing concern over students who may drop out of college due to lack of seats for studying BA, B.com, B.Sc and PG amid the COVID-19 pandemic, he appealed to the state government to increase the number of seats in universities.
Sichuan University, China research scholar, Konjengbam Chinglenkhomba spoke on "Mother language and NEP" and said the new education policy has not mentioned how to learn the local language though in future it may be included. In India, the English language has been formed as a culture for decades. It is not easy to change rooted culture but can be changed. Mother language or mother tongue is important for learning and educating students, he said.
Assistant professor, department of Manipuri, MU, Naorem Sanatomba spoke on "Language and its importance in education". He said mother language would be practical for learning in school but in the state, English is being used. A student or a kid who learns their mother tongue from their mother has to be learning English in school. The underlying meaning of sending school is to learn English in the state. So, the influence of learning English in the state is very high. Hence, educating students in English or by mother language becomes debatable. However, learning by mother language will make students understand easily, Sanatomba said.
The principal of Lilong Haoreibi College, Raheijuddin Sheikh spoke on "Reimaging vocationalisation of higher education under NEP", while PP Kids principal Thokchom Memcha Devi spoke on "Pre Primary school education in Manipur and NEP".
The Academic discourse was moderated by COHSEM chairman, Lamabam Mahendra and as rapporteur, post-doctoral fellow, department of economics MU, Bishanjit Loitongjam.
First Published:
Nov. 13, 2020, 3:54 p.m.