MHRC: Alive and kicking
IFP EDITORIAL: The Manipur Human Rights Commission (MHRC), like that of other governments in the past, still remains a paper tiger, powerless without adequate support staff.
---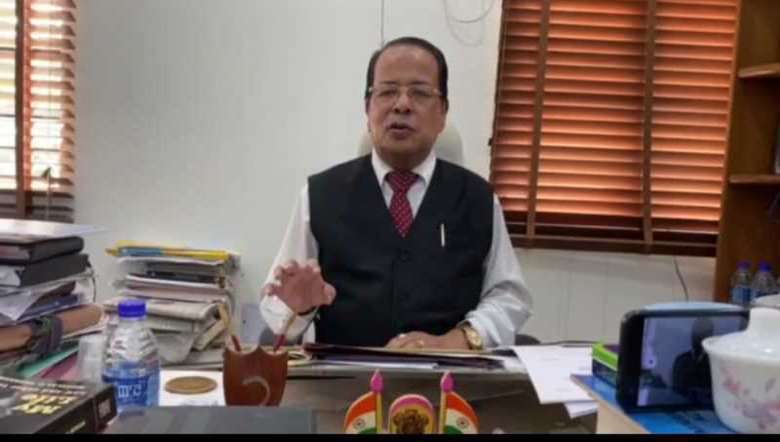 MHRC Acting Chairperson Khaidem Mani
---
Two directives in the last 24 hours make us realise that the Manipur State Human Rights Commission is alive and kicking. The first one is of the Rights Commission asking Imphal West SP, Chief Secretary and DGP to show cause on why FIR should not be filed against Imphal West SP and why they should not pay compensation of Rs 5 lakhs for atrocities and injury allegedly caused on an individual by the Imphal West SP. The directive was given following a complaint lodged before the commission by one Ph Okendra, 50, son of late Ph Ibomcha of Sagolband, Imphal, who stated that he was severely injured after Imphal West SP hit him on his head with a stick. The second directive was regarding a complaint filed by a journalist. No, it was not a complaint that his human rights have been violated by a state actor or 'non-state actors', but by a journalists collective and a media house. The Commission directed All Manipur Working Journalist Union to reconsider the expulsion of Joint Editor of Kangleipaki Meira, W Dhamendro and Lamjingba Manangement Services Pvt Ltd to redress the grievances of W Dhamendro within 15 days and pay all the arrears of back wages to Dhamendro immediately.
By non-state actors we mean the outlawed organisations. The state agencies have been repeatedly complaining about the Human Right groups not taking up cases of human rights violations by non-state actors and that they are targeting the state actors only. But, we do not want to discuss here the merits of the issue raised by state agencies. We are simply interested in the jurisdiction of the human rights commissions in the domain of civil rights vis-à-vis the private organisations. The first directive regarding police atrocity is all right as human rights commissions are especially established to look into violations by state actors. Its functions include monitoring of human rights violations, dispute resolution through adjudication or mediation, human rights education, documentation and research, advising governments on human rights issues and human rights standard-setting. But, we certainly have reservations about the second directive issued to All Manipur Working Journalists Union and Lamjingba with regard to its jurisdiction. Mr Dhamendro can always go to the court of the Labour Commissioner regarding his complaint against Lamjingba management and to the appropriate civil court for his prayer against AMWJU. But, Human Rights Commission is certainly not the right forum for airing his complaints.
The Manipur Human Rights Commission (MHRC) was set up on June 27, 1998 following charges of human rights violations in the insurgency-afflicted Manipur under the Protection of the Human Rights Commission Act, 1993. It remained defunct for eight years and three months. It was only on June 25, 2018 that the BJP-led government revived the MHRC. In the initial years, a Chairperson and two members were appointed. But, the BJP government appointed only one member who also functions as the Acting Chairperson. Like that of other governments in the past, the Commission still remains a paper tiger, powerless without adequate support staff. Many facilities, including infrastructure, and much-needed staff are yet to be made available. There were just three employees appointed by the State government. The present Acting Chairperson Khaidem Mani was a Human rights activist and lawyer before he was appointed to the post. He wants the Commission to be adequately staffed having four segments namely administration, law, investigations and research and analysis. A case was taken up against the Manipur Chief Secretary in this connection on May 22, 2020. The government had issued a notification on May 25, saying that the MHRC will henceforth be a full-fledged office and not a government-aided one. Even with the present circumstances, if one is imaginative he can do a lot with the limited resources he has. God bless him. 
ALSO READ: 
MHRC questions SP, CS, DGP on police atrocities on man from Imphal
MHRC directs AMWJU to reconsider W Dhamendro's expulsion case
First Published:
Nov. 7, 2020, 10:13 a.m.