COVID-19 testing streamline programme to start at local level in Manipur
A central team visited Manipur from October 28 to November 2 to monitor the condition of the COVID-19 pandemic.
---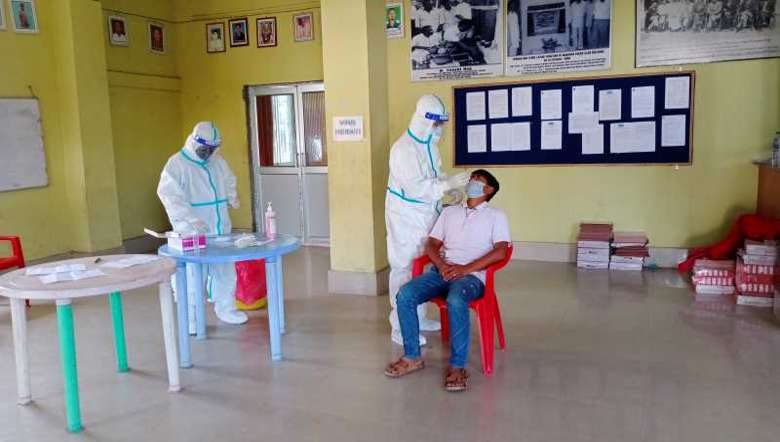 Manipur has enough testing kits (RT-PCR and RAT) and a streamline programme for COVID-19 testing by mobile teams in preannounced localities will be started in coordination with local COVID-19 committees, Health and Family Welfare principal secretary V Vumlunmang said on Friday.
The principal secretary, speaking to the media in Imphal, said that a central team visited Manipur from October 28 to November 2 to monitor the condition of the COVID-19 pandemic.
After monitoring, the team has recommended to increase capacities for facilities at home isolation, COVID Care Centre, district hospitals and medical colleges, uninterrupted supply of oxygen, increase manpower, seamless tele-counselling for home isolation cases, proper media plan to increase awareness, analyse available date, integrated COVID19 control centre with better coordination and ensure adequate funding, Vumlunmang said.
He continued that there are 35 COVID Care Centres throughout the state and the total capacity of the 35 centres is 2,264 beds.
Announcing that the CMHT and PMJAY has covered COVID-19 treatment costs, he said that RIMS and JNIMS has now 245 COVID treatment beds, district hospitals have 80 beds, Shija Hospital has 50 beds and Raj Medicity has 24 beds.
Regarding home isolation, Vumlunmang said that medical packets were distributed to the patients. Besides, nodal officers have been appointed at state and district level to monitor home isolation cases and till date, 3,137 persons have adopted home isolation and out of it 2,345 persons have recovered, he added.
It is the state's first weekly press briefing on COVID-19. The briefing on COVID-19 will be held on every Friday. Its main objective is to inform the public about the COVID appropriate behaviour at grassroots level.   
The principal secretary maintained that the government has updated a new SOP for COVID appropriate behaviour at local, village and community level in order to control the spread of COVID-19 in the state.
The Central government has also introduced a life insurance scheme worth Rs 50 lakh for COVID frontline workers of the government, private sectors and the volunteers, he added.
First Published:
Nov. 6, 2020, 9:08 p.m.