Eviction-Demolition Drive in Moreh: 66 villagers wait for rehabilitation, compensation
Villages affected by the eviction drive are villages of M Chahnou, SL Gamnan, NG Moulom, Lhangnom Veng, Gangte Veng, Haijang Veng, T Yangom, New Moreh ward no 9, Shijang Veng, Moreh ward no.1 and T Tonglhang villages in Tengnoupal district
---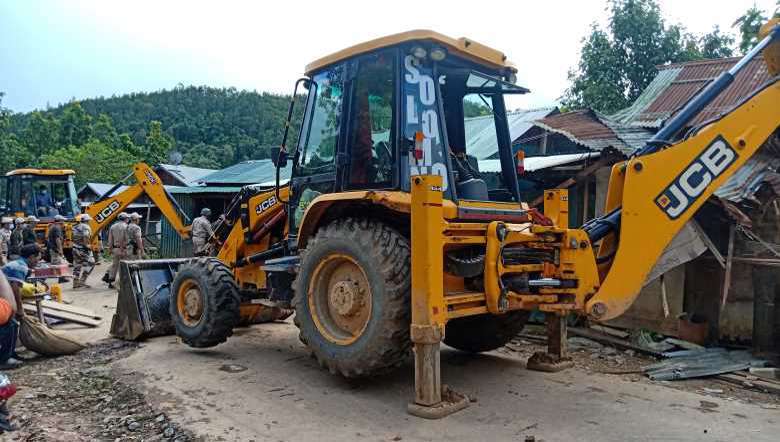 Eviction drive in Moreh Integrated Check Post Bypass Road (File photo: IFP)
---
The Moreh Integrated Check Post Bypass Road Land and Structure Committee (MICPBRSC) has alleged that forceful eviction of villagers without adequate compensation and rehabilitation amounts to serious violation of liberty and their physical and mental wellbeing, especially during the COVID-19 time. It said that authorities have failed to compensate and rehabilitate around 66 villagers in Tengnoupal district of Manipur.
MICPBRSC chairman Holkhopao Baite told reporters that the order of the deputy commissioner, Tengnoupal district on September 11 directed all the landowners in the villages along Moreh ICP Bypass Road to leave up to 100 feet wide of their lands for eviction within September 12 to 25 under the National Highway Act, 1956. But the notification for eviction has been a failure of project authorities of the Moreh ICP Bypass Road which is financed by the Asian Development Bank (ADB), he added.
"The authorities have failed to compensate and rehabilitate of around 66 villagers from the villages of M Chahnou, SL Gamnan, NG Moulom, Lhangnom Veng, Gangte Veng, Haijang Veng, T Yangom, New Moreh ward no 9, Shijang Veng, Moreh ward no.1 and T Tonglhang villages in Tengnoupal district for impacts on their homestead land, houses and other commercial enterprises. The entire villagers of T Tonglhang village have been excluded from compensation," said Baite.
He further said that the affected villagers are concerned with the irregularities in compensation of the villagers affected by Moreh ICP Bypass Road by the project authorities. While several villagers were provided compensation, many households affected by the proposed road expansion were excluded from compensation by the deputy commissioner of Tengnoupal and ICP Bypass Road Committee, he said.
The failure to rehabilitate the affected villagers indicates the failure of the project authorities to adhere to the resettlement and indigenous people planning framework prepared by ADB under Safeguard Policy 2009 for Imphal Moreh Road in June 2020, Baite added.
The Committee has been launching a democratic movement for compensation and rehabilitation for their houses and homestead land affected by the eviction of Moreh to ICP bypass road since the eviction order was issued.
The committee submitted memorandums to the DC of Tengnoupal and deputy general manager of National Highways and Infrastructure Development Corporation Limited (NHIDCL), PMU, Churachandpur to rehabilitate the affected villagers based on a survey in October 2018. However, there has been no positive response so far, said Baite.
The MICPBRSC has lodged a complaint petition to the Manipur Human Rights Commission (MHRC) on October 26. The commission has directed the commissioner (Revenue), Government of Manipur, deputy commissioner of Tengoupal district, deputy general manager, NHIDCL and BO-Imphal to submit reports on or before November 9. But the DC of Tengnoupal district has taken the eviction proceedings. MHRC further directed to keep in abeyance his eviction proceeding till his submission of report on November 9 without fail.
First Published:
Nov. 6, 2020, 10:19 a.m.