Eight trucks for transporting essential commodities for Mizoram from Manipur reach Imphal
As the National Highway-306 is blocked over the Assam-Mizoram border tension, Mizoram decided to transport essential items from Manipur.
---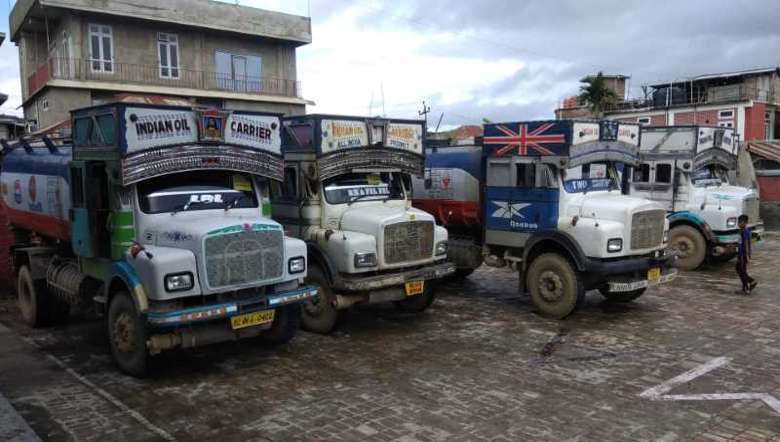 Goods trucks from Mizoram (PHOTO: IFP)
---
In the wake of the National Highway-306 blockade over the Assam-Mizoram border tension, eight trucks for transporting essential commodities, including fuel, for Mizoram from Manipur arrived in Imphal on Monday.
In all, 15 vehicles are to arrive as per the Mizoram government order. Of it, eight arrived in Imphal on Monday via the National Highway-201B.
The eight vehicles included oil tankers. While three trucks stopped to refill LPG cylinders at Sekmai LPG bottling plant, five POL trucks are stationed at Malom Oil Depot, Imphal for refilling.
Following the Assam-Mizoram border dispute, a blockade has been effected at the Mizoram border by the locals of Assam. They have blocked NH-306 along Vairengte sub division under Kolosib district of Mizoram for more than a week now. The National Highway 306 serves as the lifeline of Mizoram.
Sources from Mizoram said that the border issue with Assam was due to illegal migrants coming from Bangladesh who tried to claim Mizo's land where the Mizoram government has stationed its security forces, saying that they will not be withdrawn unless the road is lifted and the borders are resolved.
The drivers and helpers of the truck and LPG bullets are well received by student unions such as the SSPP, the Paite student organisations, who issued an order that all units must be ready to help in case of any problem faced by the truck drivers.
The ZRA, meanwhile, having its headquarters at Songtal where the Guite Road passes through, welcomed and received the drivers and their team by providing boarding and lodging at their headquarters.
First Published:
Nov. 2, 2020, 8:11 p.m.