Local bodies help injured boy in NSU clash through crowd funding
Kangpokpi local bodies collected Rs 60,550 through crowd funding and handed it over to the injured family.
---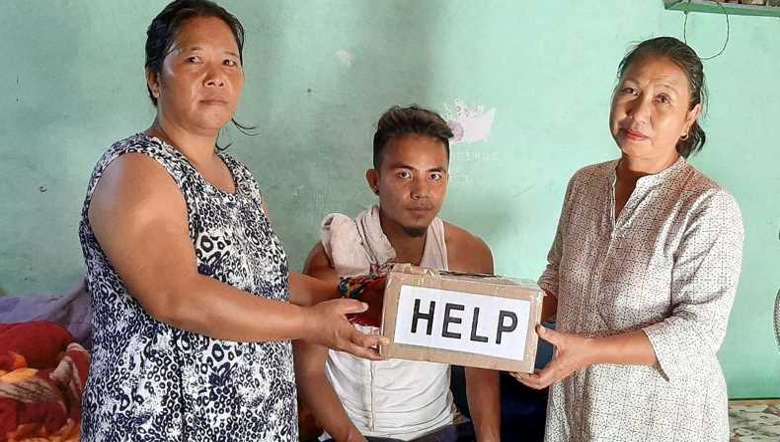 The local bodies of Kangpokpi town organised a crowdfunding campaign for medical expenses of the treatment of Gugun Chongloi of Ch Ebenezer, Leimakhong, who was critically injured during a clash over the controversial National Sports University land issue on October 5.
Gugun Chongloi had a firearm injury over the right shoulder during the clash over the disputed NSU site on October 5 evening. The final diagnosis as per his medical report at time of discharge from Raj Medicity mentioned that he had a Grade-1 Compound Fracture Clavicle on the right shoulder.
He was then treated at a local private clinic at Kangpokpi town and discharged on October 29. He is yet to be fully recovered and more medical treatment is required even up to the extent of surgery if the fracture part is not cured in the initial treatment.
Considering the family's financial condition, with the initiative of the a local journalist under the aegis of Kangpokpi Town Committee, the local bodies of Kangpokpi including Kangpokpi Women Welfare Organisation and Kangpokpi Youth Union organised a crowdfunding to help the poor boy in his medical expenses.
Altogether, the local bodies could collect an amount of Rs 60,550 from the crowd funding and handed over to the family at Ch Ebenezer with prayer for early recovery of the boy.
While strongly condemning such act of brutality, the local bodies said that Gugun was compelled to save the lives of innocent women and children by sacrificing himself that night, otherwise some of the innocent women and children could have been fatally hurt.
It also blamed the state government that such misunderstanding and quarrelling which subsequently led to clashes among the two parties on a particular issue always happened when the government failed to act judiciously. The local bodies appealed the state government to stop such brutality out of its injudicious decision which only hurt the innocent people.
It also appealed to all the communities to avoid local or communal clashes out of the government's injudicious administration rather than collectively pressure the government for a judicious decision and administration.
First Published:
Nov. 1, 2020, 11:04 a.m.