Fish to be made available at low price for Ningol Chakouba festival in Manipur
Around five lakh small fishes of various species were released in Loktak Lake on 31st Loktak Day celebration.
---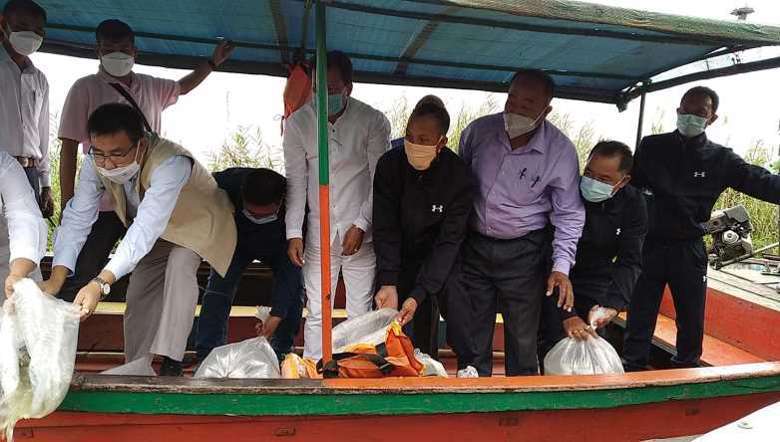 Fishery Minister Rajen (L) releasing fish in Loktak Lake on Oct 31, 2020
---
Manipur Fishery Minister S Rajen has assured the people in the state to ensure availability of fish at low price during 'Ningol Chakouba' festival celebration in the state.
The minister made the announcement at the 31st Loktak Day celebration held at Loktak Lake, Moirang on Saturday organised by the Fishery department along with Community Owned Fish Hatchery and Seed Farm of Toubul.
As a part of the programme, around five lakh small fishes of various species were also released in Loktak Lake.
Addressing the media during the function, Rajen said that despite the COVID-19 pandemic, people may want to celebrate 'Ningol Chakouba' festival as it comes once in a year. However, due to the ongoing pandemic, the economy of the state is being hit hard and considering this scenario, the department will procure fish to make it available at cheap prices in the market at least for this festival, he added.
Rajen also said that fish farms under the Fishery department are not working as required and the department will surely draw attention to improve the condition. Besides this, enquiry for installation of low quality fish feed mill will be taken up soon, he added.
The minister said making the state self-reliant in terms of fish production would bring immense economic development in the state as it would help to save wastage of huge money in importing fishes from other states and make more people to be self-employed.
As the present government is committed to increasing production in the state, training programmes on BioFloc fish farming were held three times in the state, he added while encouraging the youths to take part.
He also stated that the misuse of funds which was released from the North-East Council for the department during the previous government is under investigation.
First Published:
Nov. 1, 2020, 8:16 a.m.