Jan Aandolan Campaign for Covid awareness rally held in Moreh
The awareness campaign rally was led by M Rajkumaar, DC Tengnoupal and Th Vikramjit Singh SP-Tengnoupal
---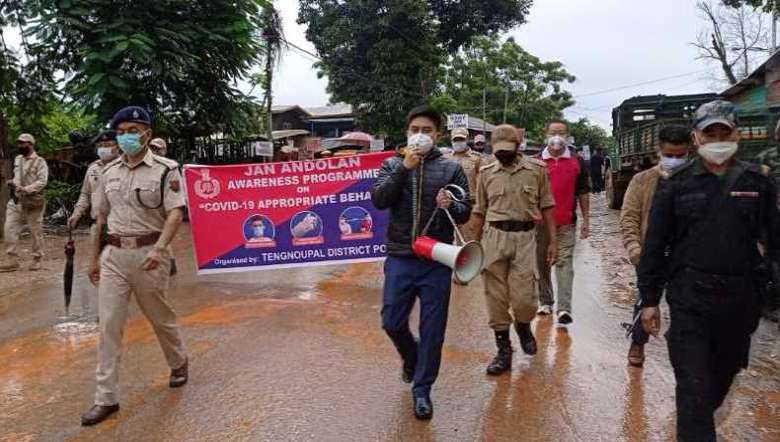 District police Tengnoupal and District Administration Tengnoupal carried out Jan Aandolan Campaign for Awareness of Covid Appropriate Behavior rally at Moreh town on Friday.
The awareness campaign rally was led by M Rajkumaar, DC Tengnoupal and Th Vikramjit Singh SP-Tengnoupal and participated by M Amit singh- Addl. SP(ops) Moreh, I. Dineshkumar, SDO Moreh, with other police officers and personnel of Tengnoupal police.
During the rally, DC and SP gave Covid Awareness Messages such as wearing of Face Mask in public places, regular washing of hand with soap or using hand sanitizer and keeping physical distancing of 6 feet, to the general public using load speaker.
The rally started from Moreh Police Station marched throughout the town and returned from Moreh Forest Gate and back to the Moreh police station.
After the rally, DC Tengnoupal and SP Tengnoupal visited different CSOs office and held meeting with the leaders of CSOs. In the meeting, DC appeal to the CSOs leaders to take up steps and give awareness to the general public to curb from the Covid pandemic.
First Published:
Oct. 24, 2020, 2:08 p.m.