Who will cast vote for irresponsible Congress party candidates: CM Biren
Chief Minister N Biren Singh said that the BJP intending candidate for Wangoi AC has been made minister with the aim to bring development in Manipur
---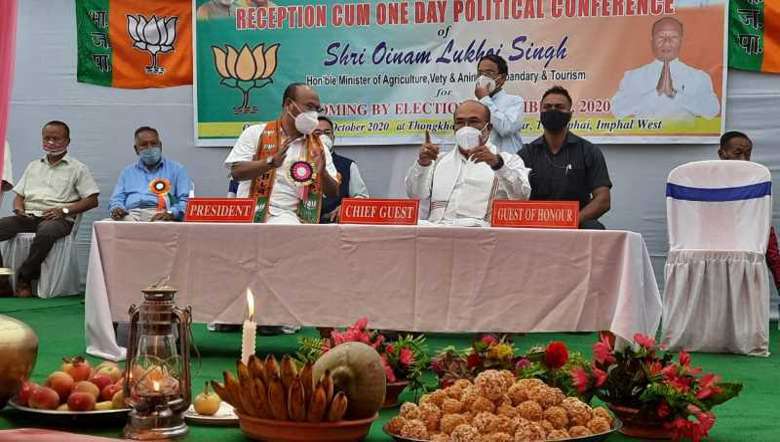 BJP intending candidate of Wangoi assembly constituency for the coming by-election O Lukhoi was selected as a cabinet minister at the level of Prime Minister with the aim of bringing development, said Chief Minister N Biren on Sunday.  
"Who will cast their vote for some candidates fielded by irresponsible Congress instead of casting vote to Lukhoi," Biren mockingly questioned while speaking during reception cum one-day political conference held at Thongkhong, Luxmi Bazaar, Wangoi, Imphal.
Biren further said that by-election is being scheduled within six months as per the Indian Constitution amid the alarming situation of COVID-19. 
For the last five-six months under the leadership of Narendra Modi, rice and other essential items are being distributed to the entire country to help the people tide over the COVID outbreak. People should support the initiatives of the government that has been taken up from time to time with the consent of experts, he stated.
Highlighting achievements of the BJP-led government in the last three and half years, the CM said that the government has fulfilled the long pending demand of inner line permit to safeguard indigenous people of Manipur. "Fake encounter during the then Congress government has been rooted out with the coming of BJP government in the state. Though Salam Joy is the Congress candidate of the assembly constituency, who will cast their vote to him who is being fielded by the Congress," he added.
He went on to say that various people from both hills and valleys have been given different benefits including health scheme of both state and central by providing health cards within a short period of the BJP led government. Even the government has provided a monthly honorarium of Rs 1500 to persons with disabilities, said Biren.
The chief minister also stressed that people should cast their vote by knowing the meaning of democracy.
Chairman of state handloom and handicraft development corporation, Sagolsem Achouba exhorted the people to support and cast their votes to Lukhoi who is already a minister to bring development in Wangoi assembly constituency. 
Lukhoi has been contributing to Wangoi since he was an MLA but people should give him more support to continue his contribution by being a minister, he added.
Former minister, N Mangi; president of Shiv Sena state unit M Tombi and others attended the function.
First Published:
Oct. 19, 2020, 7:32 a.m.