KLASA inks three-year contract with BOYO for football development
'This is our first time to sponsor a football team and we have chosen KLASA FC Keinou as one of the emerging team after Neroca FC and TRAU FC to pave way towards a higher platform'
---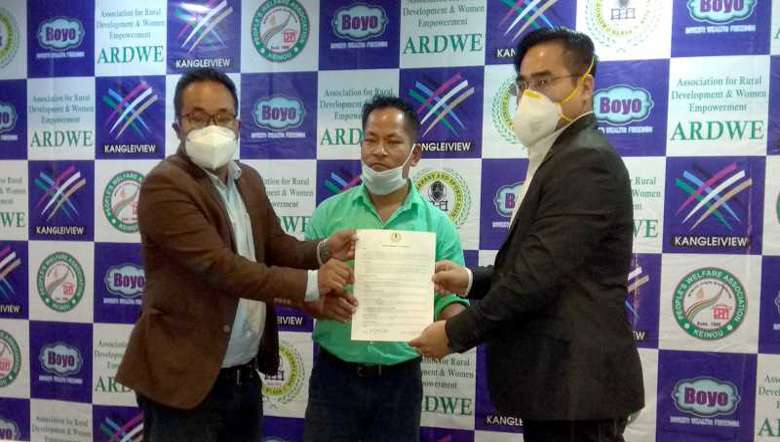 KLASA inks 3-year contract with BOYO for football development (Photo IFP)
---
One of premier state league football team, Keinou Library and Sports Association (KLASA) FC, Keinou has inked a three-year sponsor contract with BOYO Pvt Ltd, Manipur at Hotel Classic, North AOC, Imphal Sunday.
BOYO, a privately run company by Nongthombam Thoithoi Singh based at Pishumthong, had agreed to sponsor the KLASA FC football team for three year, amounting to Rs 50 lakhs. KLASA Keinou was represented by its president Yanglem Norton Singh.
BOYO director N.Thoithoi Singh explained that they are a marketing firm which believes in self sustenance. The very essence of BOYO is 'Business of Your Own' and generate income among ourselves.
"This is our first time to sponsor a football team and we have chosen KLASA FC Keinou as one of the emerging team after Neroca FC and TRAU FC to pave way towards a higher platform. We have helped them in funding structural construction of club building and we aimed to tapping the potential of the youths towards sports and development of the Keinou village as well in general," Thoithoi Singh said.
Singh further said that it is trial model to develop football and KLASA Keinou has a strong sporting history. "If we are successful in our endevour, we will extend our reach to other Clubs and new venture as well," added Thoithoi.
Dr Ch. Ranjit Singh, who is the treasurer of KLASA narrated that the Club was established in 1972. Since its establishment, we have been a district champion team for ten times and have featured thrice in the prestigious CC Meet. We have managed to claimed Winner Cup title three times.
He added that we had made our Manipur State League debut in 2014 but relegated to Super Division in the next very year in 2015. However we bounc back in 2016 to the Manipur State League fold and was able to claimed runners up title twice in 2018 and 2019. 
First Published:
Oct. 18, 2020, 10:31 p.m.