Manipur's LGBTQ+ dream of separate transgender category in sports
Among the state players, there are some 'transmen' who play in the women category by hiding their real identity of being a transgender
---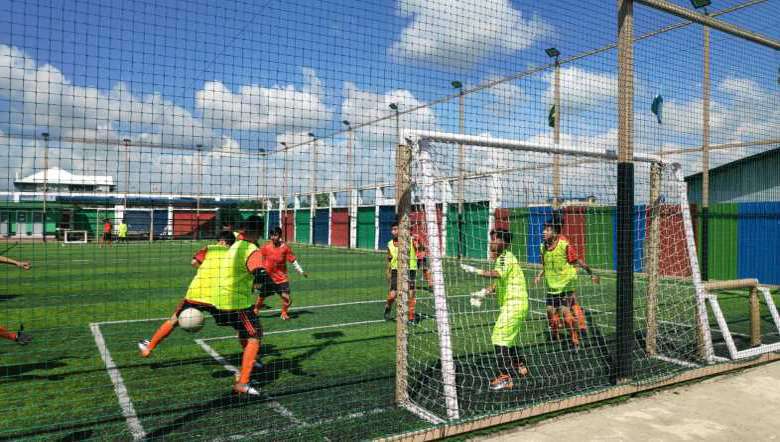 Transgender community in Manipur has long sought the attention of the state government and authority concerned to include transgender category in sports, as they face several problems in various competitions.
There is no denying that Manipur is known as a power house of sports and there is a sizable number of players from Manipur not only at the national level but also at the international level. Among the state players, there are some 'transmen' who play in the women category by hiding their real identity of being a transgender. Several Manipuri transmen are playing football at the national and international level in female category by hiding their real gender as there is no transgender category in sports. Such persons of the community are taking part in other fields of sports as well.
In an interview to the Imphal Free Press, physical education instructor of state sports department Ningthoukhongjam Romoni, who was a national football player during the 80's and was known as 'Woman Pele' of Indian football said, "It would provide a great opportunity if a separate category for transgender is included. There are no differences during the training session for male and female but small issues arise during competition and tournament regarding the inclusion of transmen in the team."
"I hope for an opportunity to be a football coach exclusively for transgender if a separate category is included in sports," Romoni said.
Founder of 'Ya_all' which is a youth network organisation inclusive of LGBTQ+, Sadam Hanjabam said, "For sports, it is different as many transmen who are talented in sports have to compete in female category which they faced various problems at the time of competition. In one recent case, a professional sprinter Dutee Chand was alleged for same-sex relationship. And after several physical and medical testing she was announced as India's first openly gay athlete and later became an icon for the country in LGBTQ+ community".
He said that such cases could be minimised if authority concerned included an exclusive category for the transgender community.
Meanwhile, president of Empowering Trans Ability (ETA), which is a transmen organisation of Manipur, Oinam Hemabati alias Yambung told Imphal Free Press that the first transmen football exhibition in Manipur was played on May 27, 2017. 
The match was played with a local female football team named Women Football Association (WFA). Yambung said the exhibition match was organised to promote sports athletes for the community. But due to lack of support no further sport events were organised. 
Yambung maintained that a platform for the community is needed in sports so that they can compete in the same category without creating any sort of problem.
"Due to lack of support from the government and the LGBTQ+ community itself, various people of the community are facing problems," Yambung added.
A sports enthusiast of the transgender community, Lydia Thoudam, who preferred to be called Dit Mangang, said, "Football being my favourite game, I have been playing along with boys till date. I wanted to become a professional player but not in female category," Dit said.
Every players of the community should not hesitate in taking up initiative for a separate and exclusive category for the community and not the already existing male and female category, she added. 
Meanwhile, All Manipur Football Association (AMFA) president Moirangthem Ratankumar stated that no official claim had been received at the association so far even though a transmen football team had been claimed to be formed. He said it will be a great initiative if such a claim is made officially but it has to be approved by the All India Football Federation (AIFF) under certain criteria.
Ya_all had claimed to have launched the first transmen football team consisting 19 players on March 8 and claimed that it is the first transgender football team in the entire country. The team is yet to be registered but will be registered soon, Sadam added.
First Published:
Oct. 14, 2020, 9:54 p.m.