No bill will be released for poor quality works: Education Minister Rajen
Manipur Education Minister Rajen called for strict compliance to the instructions of the concerned Engineering Department in construction works of the education department.
---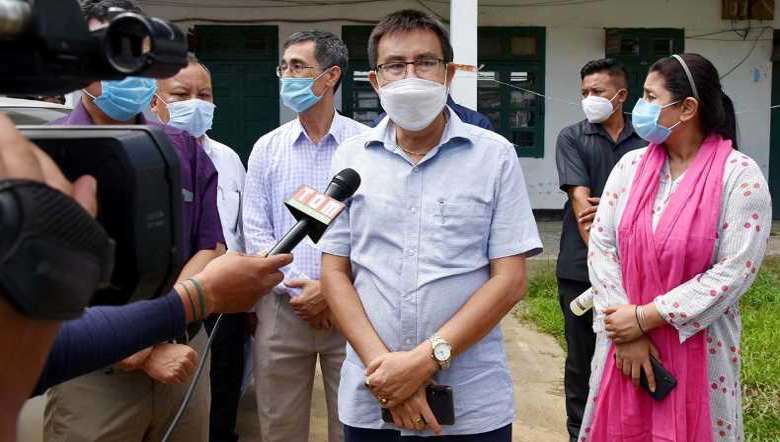 Education Minister S Rajen briefs mediapersons in Imphal on October 11, 2020
---
Manipur Education, Fishery and CADA Minister S Rajen Singh has advised the concerned works executing agencies concerning education department not to release any bill if the contractors do not follow the particulars in the work order. He also asked for strict compliance to the instructions of the concerned Engineering Department.
The minister was speaking to the media during his visit at different government colleges located in Imphal West, Bishnupur and Imphal East.
Minister Rajen said that the infrastructures of the present Government Colleges is not satisfactory. The ongoing construction of Library building in the campus of DM College of Teachers' Education need to be reviewed since the quality of construction is not satisfactory. He also instructed the concerned Engineering Department to put the present construction on halt.
While visiting L Sanoi College, Nambol, minister Rajen maintained that the principal of the college will be empowered to monitor the development works of the college. He suggested that teachers should be away from politics. Rather they should adhere to their service of the teaching students. MLA, Nambol Assembly Constituency L Loken Singh also arrived at the spot at the time of ministerial team's visit. Loken also urged the teachers to be sincere to their profession and keep away themselves from unrelated tasks.
Minister visited S Kula Women's College which is adjacent to L Sanoy College and saw his satisfaction to the proper maintenance of the college. Later, he visited Imphal College and inspected the ongoing construction of College Library. Minister also visited Liberal College, Luwangsangbam. During his visit minister Rajen assured for renovation of rooms and damaged blocks of the colleges according to the availability of fund in the education department on priority basis. In case of shortage of fund in the education department for development and renovation of the colleges, proposals and DPRs will be prepared and submit to the concerned ministry for more funding, he added.
Minister also visited GP Women's College and inspected the ongoing construction of College Library and site for the construction of new Girls' Hostel. He also interacted with the teaching and non teaching staffs of the college.  
The ministerial team includes M. Harekrishna, IAS, Commissioner Higher and Technical Education, Dr Rangitabali Waikhom, IAS, director Education (U), chief engineer Education Engineering Wing, Kh Sarat Singh, executive engineer, AE of the wing and other officials.
First Published:
Oct. 11, 2020, 8:47 a.m.