Will candles imported from Myanmar continue to dominate Manipur market?
Manipur witnesses mushrooming of candle manufacturing units amid COVID-19 pandemic
---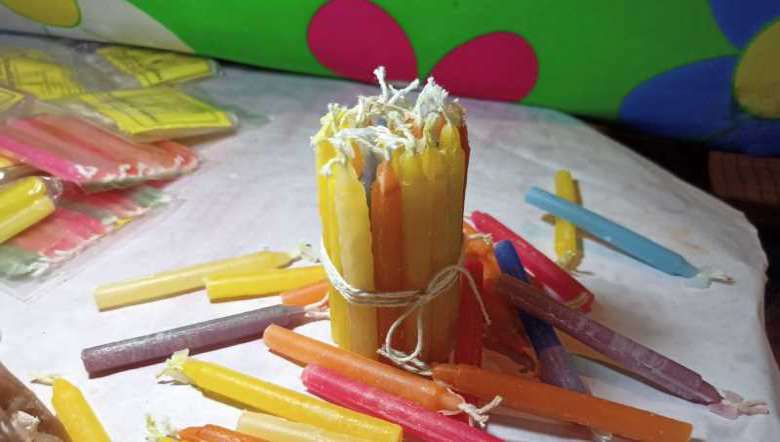 (PHOTO: IFP)
---
Small-scale manufacturing of candles was introduced decades ago in Manipur. However, candles imported from Myanmar have been dominating the candle market in the state for many years as candles were produced in small numbers in the state. Recently, in what could be considered a positive impact of the COVID-19 pandemic and the lockdown that followed, Manipur is witnessing mushrooming of candle manufacturing units.
Many people, whose daily earning activities have been affected by the long period of lockdown which was enforced since March 24, have started engaging in manufacturing of various types of candles in their homes as a source of income.
The Imphal Free Press visited several new candle manufacturing units and interacted with some of the entrepreneurs and candle makers who have picked up candle making as their source of income or a leisure activity while being confined at home.
One entrepreneur, Konthoujam ongbi Ananadabi Leima of Imphal West not only manufactures candles but also imparts training on manufacturing of candles to others.
Speaking to the Imphal Free Press, Ananadabi, who is the proprietor of 'Thawai Enterprise', pointed out that most of the candles available in the market here are imported from Myanmar through Moreh town. They are much cheaper compared to that of Indian-made ones. Besides, GST is also exempted when the candles are imported in the state from Myanmar, she said.
It may be noted that the state government has sealed the Indo-Myanmar border as preventive measures against the spread of COVID-19 and all kinds of cross-border business transactions came to a standstill.
However, as candles are in high demand in a state which faces erratic power supply, many locals in Imphal Valley area is taking to making local products, including candle-making, to earn their livelihood.
Ananadabi, who is also a member of Nongchup Imphal Palem Ima Apunba Lup (NIMPAL), started giving training programme at various localities, including Langthabal, Uripok, Lamboi Khongnangkhong and Wangoi among others.
"Since the lockdown began, I have imparted training on manufacturing of candles to more than 3000 people," she said. 
Highlighting the inconveniences she face in carrying out her business due to the lockdown, she stated that raw materials especially 'wax' was hard to get in the initial stage of lockdown. 
"During the initial stage, there were lesser number of small-scale candle manufacturers and I was able to make a profit of about Rs 3,000 per 50 kilograms of wax. As the number of small candle manufacturing units are on the rise and the availability of raw materials at cheaper rates with the partial relaxation of lockdown, I earn about Rs 2,000-2,500 as profit," she said.
Ananadabi said candles being manufactured in small scale at homes are being sold without any fixed price. As such, she appealed to the government to fix a rate as most of them are selling at different prices. She also drew the attention of the government to ban import of candles from Myanmar without GST so that local small candle manufacturing units can be promoted.
Today, Ananadabi has home delivery service and hawkers come to her house to buy the candles in bulk, she said. "I am planning to employ some people to manufacture candles so that they can get their own income during lockdown by staying at home. For now, only my family members are engaged in the manufacturing of candles," she added.
Meanwhile, one Nongthoujam Ongbi Kalyani of Keishamthong Elangbam Leikai, stated that she started manufacturing candles after watching a YouTube video during the lockdown, inspired by a candle maker known to the family.
After some days of manufacturing for home use, she started packaging and selling the candles in the locality. As the demand grew she started selling the candles even through social media, she said. 
"I can earn some profit by staying at home and selling the candles. If extra effort is given on manufacturing, then I can get more profit," Kalyani added.
A government teacher by profession, Oinam Ongbi Bina of Khongman told the IFP that she was motivated to start manufacturing candles from seeing one of her neighbours. As schools were shut down since the lockdown, she started making candles.
"I started making candles as a hobby but when one of my friends wanted to buy the candles I made, I started packaging and selling them," Bina said.
As people are advised to remain indoors during this pandemic time, many have started many small-scale business apart from candle manufacturing during the lockdown. As candle manufacturing units is mushrooming in the state, the pertinent question is whether candles imported from Myanmar will continue to dominate the market here post lockdown and pandemic.
First Published:
Oct. 5, 2020, 2:12 p.m.