Chingtham Ingobi cycles from Manipur to seven Southeast Asian countries to spread 'one world' awareness
Chingtham Ingobi from Khongjom, Thoubal district, began his solo cycle ride from western gate of Kangla on August 19 to ride across the seven countries.
---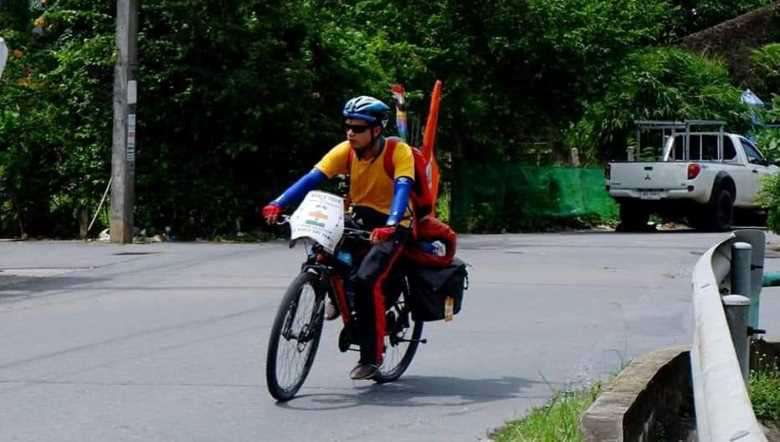 (PHOTO: IFP)
---
A 22-year-old cyclist from Manipur, who began a mission to pedal seven Southeast Asian countries in August 2019 returned to the state in March this year after pedalling for 218 days. In an exclusive interview to the Imphal Free Press, Chingtham Ingobi, shared how he went spreading awareness about 'one world one family (global integration)', 'Act East Policy', 'women empowerment', 'climate change' and 'respect your identity and others will respect you'. 
Chingtham Ingobi, son of Chingtham Ingocha and Chingtham (o) Tampakleima from Khongjom, Thoubal district, began his solo cycle ride from western gate of Kangla on August 2019 to ride across the seven countries.
Narrating his experience during the journey which covered Myanmar, Thailand, Singapore, Vietnam, Cambodia, Laos and Malaysia, Ingobi said that "I am fortunate enough that the people whom I met during my journey were kind enough whenever I needed help. I did not come across any individual harassing me during the entire journey."
When he was in Vietnam, he even had to ask donations from people since he was out of money and the people willingly helped him. Besides, applying for a Visa was also a main issue he had faced during his journey, said the cyclist.
While saying that concerning his health condition he had to ride about 50 km a day, Ingobi said that he faced some health issues as he had not eaten stable foods and had to depend on street foods whenever he felt hungry.
There were also instances where he had to sleep in the streets as he could not find hotels and many times he was denied to get rooms in hotels when he was in Myanmar, said Ingobi.
He also said that there was an incident in Thailand where a guy stole his mobile phone. However, the owner of the hotel where he stayed along with the police helped him in finding his phone, he added.
"The owner of the hotel, who was a lady, and her daughter helped me after they recognised my name and identity in the social media and appreciated my cycling journey to spread awareness on women empowerment... Growing up along with two of my brothers without a sister has taught me a lesson to spread the message of women empowerment, since we as a man could not help our mother during her women needs", said the cyclist.
He further said that he wore a Meitei traditional dress in many of the countries he visited during his journey with a motive to spread the information to the people about the existence of the Meitei community.
He also said that people had approached him more often when he wore the traditional dress rather than the times when he wore normal casuals. People were curious to know about his identity, he added.
During his journey he also participated and represented India in Global Goals 2.0 International Youth Leadership from September 30 to October 9 at Bangkok.
It may be mentioned that Ingobi had already completed a solo ride from Manipur to Delhi in April 2018 with the theme 'Beti Bachao Beti Padhao'. He had also peddled to different parts of Manipur for 16 days in 2019.
During his 218 days long journey across Southeast Asian countries, Ingobi wore a GPS gear to help him track the kilometres he covered.
First Published:
Oct. 5, 2020, 12:32 a.m.