Manipur Health department urges government to install more automatic sanitiser dispensers in all Covid care centres
State Health Director Dr K Rajo said that automated contactless sanitiser is more effective as the area of coverage is larger than the hand held sanitiser.
---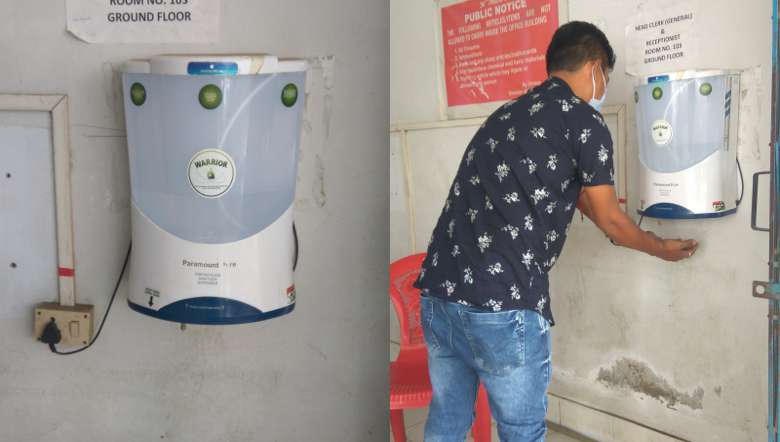 Contactless sanitizer dispenser installed at state medical directorate (PHOTO: IFP)
---
Manipur health directorate has sent proposal to the government for installing more automatic contactless sanitiser dispensers for all district Covid care centres as it is more effective than the handheld sanitisers.
State health director, Dr K Rajo told Imphal Free Press on Thursday that altogether six such dispensers have been installed at the medical directorate with the increasing number of Covid positive cases among the staff.
The liquid used in the sanitising machine is also alcohol based and is the same as the handheld sanitisers that people are using, he said. 
He continued that one unit of the sanitiser dispenser costs around Rs 14, 000 and is more effective as the area of coverage is larger than the hand held sanitiser, he added.
During the recruitment interview of health directorate that was held recently, the contactless sanitiser dispenser machine works effectively. Before the installation of the dispenser, there was huge risk in spraying sanitisers to the visitors as there are chances of getting infected, said Rajo. 
He further stressed that such automated contactless sanitiser is much needed for schools and other educational institutes as government has allowed opening of educational institutes with proper standard operating procedure (SOP) with the Unlock 5.0.
Similar dispensers were also seen in some government offices including Imphal West district commissioner, state social welfare office, and chief minister's office.
It is reported that such machines are also installed at each district commissioner's office under respective election office.
One of the employees of Imphal West DC, Bunty Nameirakpam told the IFP that installing of automatic contactless sanitiser dispensers is a good step. Employees and visitors need not touch with their hand while sanitising themselves and it could reduce infection rate, he stated.
He said that hand held sanitisers cannot reach each part of the exposed body but with automatic contactless sanitiser dispensers, each exposed body part is sanitised. 
"Such machines need to be installed in entrances of each government offices and others so that infection rate could be reduced," Bunty added.
One visitor who came at Imphal West DC office, who identified himself as Takhellambam Surdeep appreciated the government step of installing automatic contactless sanitiser dispensers.
"I came here to get OBC certificate and I also have fear of contracting the virus though I used hand held sanitiser. This sanitising technique reduces my fear of getting infected as it is sprayed over most of my exposed body part," he stated. 
Surdeep also asked the government why the officials are charging for Rs 300 and Rs 50 to get OBC certificate and income certificate respectively. "If the officials are charging for the certificate, then why do they deny giving me any receipt for what I have paid", he questioned.
He also urged the government to look into the matter as people are confused how much is the genuine cost of getting such certificates.
First Published:
Oct. 2, 2020, 12:49 a.m.