Police stop hill districts MGNREGS employees' rally in Imphal
All Manipur Hill Districts MGNREGS Employees Association held a rally, demanding regularisation of works
---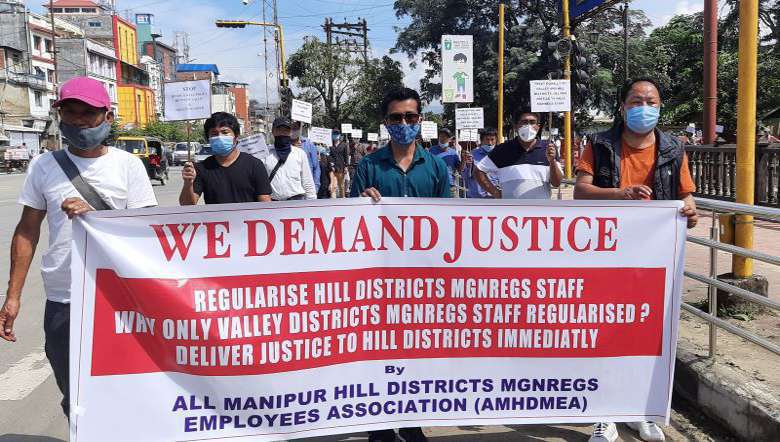 Demanding regularisation of their posts, All Manipur Hill Districts MGNREGS Employees Association (AMHDMEA) organised a rally and marched towards the market areas from North AOC, Imphal on Tuesday.
The police, however, intervened and stopped the employees from proceeding further in front of Hotel Classic in Imphal.
Earlier, in August, the association (AMHDMEA) had appealed to the state government to regularise the MGNREGS employees of hill districts of Manipur on or before September 15.
Briefing the media during the rally, AMHDMEA president Sholim Haokip said that the state government had regularised the valley district MGNREGA employees in 2016 but the employees of the hill districts who were employed first are still left out.
The association has submitted memorandums to the state government, but it has failed to fulfil the demands of the association till date.
Warning that the association will continue to protest if their demands are not fulfilled, Sholim said that the protest of the employees will hamper the MGNREGS works and development in the hill districts .
First Published:
Sept. 29, 2020, 2:16 p.m.