Sweepers, sanitation workers presented bicycles for convenience in rendering service amid Covid-19
The bicycles were distributed by the Workers' Union Manipur (WUM) to its sweepers and sanitation workers
---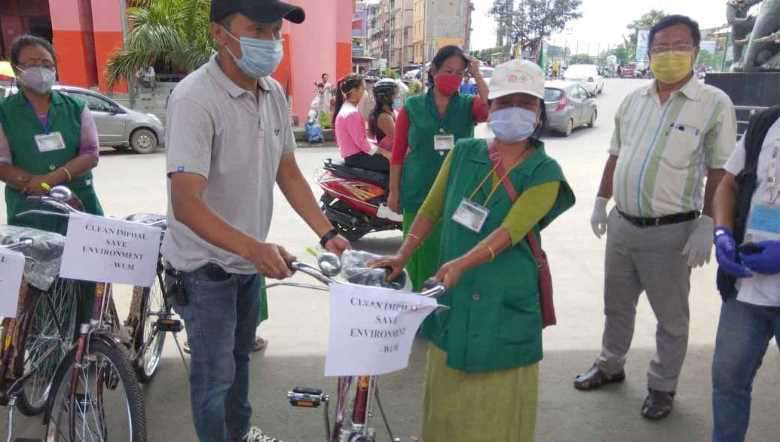 (Representational Image: IFP)
---
Sweepers and sanitation workers, who are among the COVID-19 frontline workers carrying out selfless service during the COVID-19 pandemic, were presented with bicycles on Monday to help ease the inconveniences faced due to lack of transport. 
The bicycles were distributed by the Workers' Union Manipur (WUM) to its sweepers and sanitation workers.
During the distribution ceremony held at Khwairamband Ima Keithel, WUM president W Ananda Meitei said that COVID-19 pandemic has caused a lot of problems to sweepers and sanitation workers in performing their duties. 
Nevertheless, the workers are rendering their services by managing with whatever means they have till date, he said. 
Maintaining that lack of transportation facilities is one of the main issue confronting the workers, he said that WUM decided to distribute bicycles to ease their inconveniences. 
"We also expect that this initiative would help in protecting the environment to some extent as well," he said, adding that promotion of cycle as one of the important means of transportation is the need of the hour, considering the present degrading scenario of environment.
The WUM president also said the bicycles were distributed with the concept of "no profit, no loss" as it was being given in the form of loan in a very nominal rate. 
Ananda further contended that there is no financial package for sanitation workers despite being regarded as frontline warriors. 
Director, Municipal Administration Housing and Urban Development (MAHUD), Th Harikumar said that the initiative taken up by WUM is highly commendable. Such initiatives will not only help the workers in rendering their service but will also contribute in saving the mother earth, he stated.
One of the sweepers told the Imphal Free Press that coronavirus outbreak has not only posed a risk in her life in carrying out the sanitation works but also created problem in commuting.
"As public transport are not plying in the state, I have walk to take lift from people I meet along the road. Walking for long distances is difficult for me as I am getting old. I feel highly appreciated for receiving this cycle in the form of loan because it would help in saving time and energy," she said. 
It may be mentioned that around 18 NGOs are taking care of sweeping and sanitation activities within the jurisdiction of Imphal Municipal Council. Nine NGOs among the 18 are affiliated under MAHUD.
First Published:
Sept. 28, 2020, 8:43 p.m.