COVID-19: Churachandpur reports 15 fresh positive cases, Ukhrul 12
One COVID-19 positive from Churachandpur is a returnee while four are from Imphal with two military personnel and eight locals of the district.
---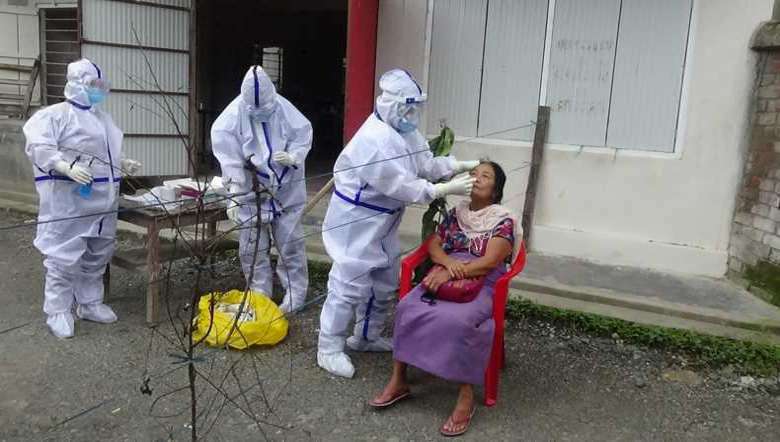 (PHOTO: IFP)
---
Churachandpur district reported 15 new cases of COVID-19 positive in the past 24 hours. One COVID-19 positive is a returnee while four are from Imphal with two military personnel and eight locals of the district.
In the last three days, 39 locals, without any travel history, had been found positive for COVID-19 in the district.
Meanwhile, 12 persons from Langdang village, Ukhrul district tested positive for COVID-19 on Friday taking the total positive cases in the district to 440. Of the total number, 33 are active cases and 417 recovered.
Ukhrul District Surveillance officer, Dr Thotreichon J has told this IFP correspondent that the Rapid Antigen Test (RAT) was carried out on Friday at Langdang village from 10 am till late evening. A total of 89 persons were tested, out of which 12 persons were tested positive. The 12 persons have been evacuated to COVID Care Centre at TK Woodland, Shirui, added the doctor while saying that another test would be carried out after a gap of five days.
It may be mentioned that three persons were tested COVID-19 positive at the COVID Testing Centre at Bakshi Ground, Dungrei and the authorities concerned had started contact tracing and travel history of the patients.
Accordingly, on September 19, district magistrate of Ukhrul, Joseph Pauline Kamsom had issued an order for containment measures to seal the geographical area and restricted entry and exit from the containment area at one of the residence situated at 7th Finance Commission Quarter at Ukhrul and another at Langdang village.
The Tangkhul Coordination Forum on COVID-19 (TCFC) had also issued notification on September 19 appealing the public who had direct contact with the three persons to inform the authority concerned immediately and to remain in isolation under strict home quarantine for a week. Again on September 21, the district magistrate issued an order declaring the whole residences of Langdang village as a containment zone.
Churachandpur/Ukhrul correspondents
First Published:
Sept. 25, 2020, 11:22 p.m.