Awareness programme on tree sapling plantation held
CHO Kunjeshori highlighted the need for clean air for health.
---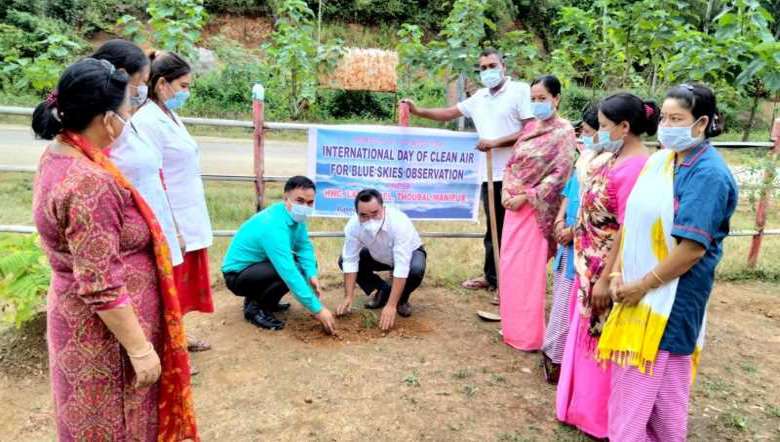 'Sinheiba and Sinthoi', an awareness programme and fruit bearing tree plantation was  held at two wellness centres of Thoubal district  in connection with the International Day of clean air for blue skies on Saturday. The event was held under the aegis of the District Health Society, Thoubal
The Health and Wellness Centres of Thoubal Wangkhem and Langathel conducted the awareness programmes and Fruit bearing tree sapling were also planted at their facilities centres respectively.
In the programme held at the HWC Langathel, DPM Ch Basanta, medical officer in charge Dr Somananda, district community mobilisers PHC Khongjom and Md Riyas Sheikh were the key resource persons.
Community health officer, HWC Langathel Rosalin explained about the theme of organising the event. MO in Charge Dr Somananda highlighted the road map to achieve the target of achieving sustainable development that supports healthy air quality in the context of sustainable cities and human settlements.
He also cautioned about the increasing number of industries without any restrictions which produce carbon, methane and other pollutants giving large impacts on our health, hygiene, crops and other species living on Earth.
Observing the day for the first time this year, it will help in promoting tree plantation and in generating awareness on the importance of clean air, water, soil to protect human health, he added.
CHO Kunjeshori highlighted the need for clean air for our human health to the participants in the programme held at HWC Thoubal Wangkhem. Health Workers and ASHAs attended in both the programmes. Fruit bearing trees were also planted at the campus of HWCs.
First Published:
Sept. 13, 2020, 10:22 a.m.