After two years of family reunion, Gambhir hangs himself on World Suicide Prevention Day
Gambhir was brought back from Mumbai to his birthplace in Manipur on April 19, 2018 by a team of Patsoi police station from Bandra, Mumbai after he went missing for 40 years..
---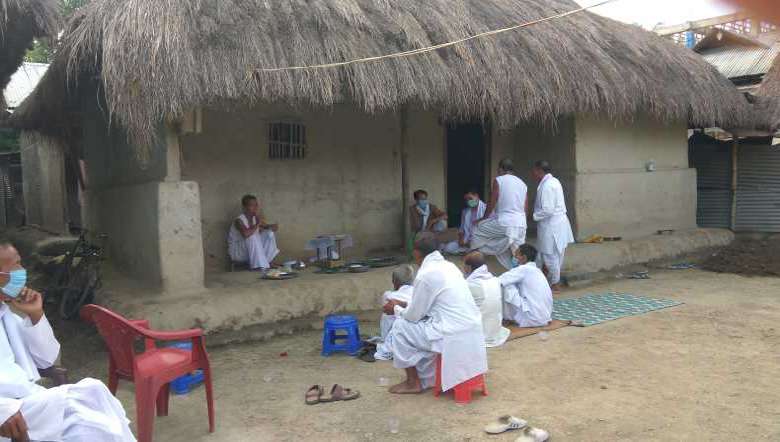 Lairik taba rites being performed at the residence of Kh Gambhir on September 10, 2020 (Photo: IFP)
---
Khomdram Gambhir Singh, who was reunited with his family two years ago, after having gone missing for 40 years allegedly committed suicide by hanging on Thursday. Ironically, September 10 is being observed across the world as the 'World Suicide Prevention Day'.
Khomdram Gambhir Singh, 72, son of late Kh Leisamohan of Khumbong Mamang Leikai, was found hanging under a bridge in the wee hours by morning joggers. The bridge is located about a distance of 500 meters from his residence.
The incident was reported to Patsoi police station at about 5 am. Patsoi police reported that a team of police rushed to the spot, followed by a team of mobile forensic team for necessary procedure. After the body was recovered by the police team along with forensic and locals, it has been handed over to family members for his last rites. However, at the request of family members and the local club of the area, no case was registered in connection with the incident, police added. Moreover, police has ruled out any foul play in the incident.
Late Gambhir was brought back from Mumbai to his birthplace at Khumbong in Imphal West on April 19, 2018 by a team of Patsoi police station from Bandra, Mumbai.
Khomdram Kulachandra, younger brother of Gambhir, said that ever since Gambhir was brought back home, he frequently mentioned that he wanted to go back to Mumbai. Gamhir had asked him once to give a sum of Rs 6,000 so that he could go back to Mumbai where he is more comfortable, said Kulachandra.
Kulachandra further said that as his brother was getting old and his health was getting bad due to an accident he met in Mumbai, family members did not allow him to go back to Mumbai.
"I usually told my brother not to worry about getting care in his old age. I told him to spend time joyfully along with the grandchildren," said Kulachandra.
The body has been cremated by following the safety guidelines and local MLA also attended the last rite.
Gambhir was an ex-rifleman of Manipur Rifles and he left his home in 1978. No traces of him were found by the family members ever since.  After four decades, a street photographer based in Mumbai, Firoze Shakir uploaded a video clip of Gambhir in October 2017 who was seen loitering at Bandra, Mumbai. In the video clip, Gambhir was singing an old hindi song. After his family members saw the video in 2018, they reported the matter at Patsoi police station.
Police in co-ordination with Mumbai police brought Gambhir back to his family from Bandra, Mumbai.
Firoze Shakir, who uploaded the video, also expressed his condolence on social media over the sudden death of Gambhir. The matter was reported to him by Arambam Amitabh, the former sub-inspector, who brought Gambhir back from Bandra.
First Published:
Sept. 10, 2020, 10:32 p.m.