Sanitizers developed by college students, staff launched in Imphal
Three different types of sanitizers were launched on Friday
---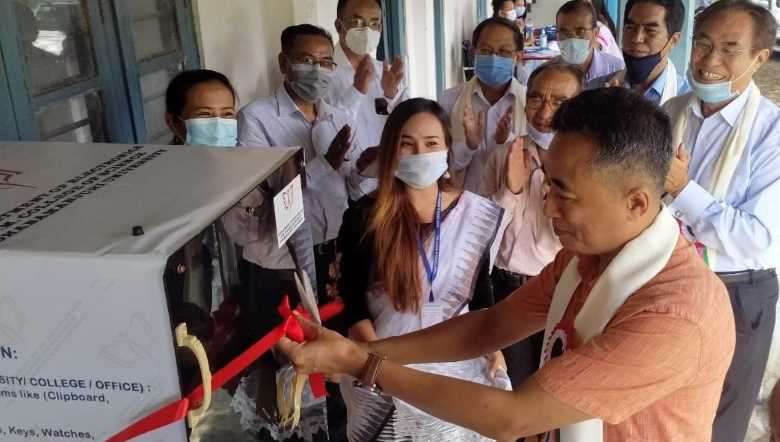 Launch of sanitizers at DM College
---
Three different types of sanitizers designed and developed by a team comprising both faculty and students of the department of Electronics, DM college of Science were launched at DM College of Science, Imphal on Thursday.
The event marked the launching of two variants of UV-C sanitizer and a walk-in-type spray sanitizer, a release stated.
The two variants of UV-C sanitizers were COR UVC Model No: D-1 and COR UVC Model No: S-1 and whole body sanitizer named 'walk-in-type whole body spray sanitizer', it stated.
The sanitizers were launched by vice chancellor Dhanamanjuri University, commissioner higher and technical education M Harekrishna; principal, DM College of Science Elangbam Jadu Singh and registrar DMU, Nivedita Lairenlakpam.
The UVC sanitizers use the ultraviolet radiation of germicidal wavelength of 254 nm to kill various harmful bacteria and viruses from the surface of objects exposed to it in a few minutes, it stated. These devices can be installed in hospitals, banks, office buildings, houses etc to sanitize day to day commodities like – files, papers, wallets, mobiles, ATM, money bills, vegetables, crockery and many more, it added.
The walk-in-type whole body spray sanitizer is based on the germicidal chemicals sprayed in the form of mist in a control manner, it stated. The arduino based circuit of the sanitizer senses an incoming person and releases the agent in the form of mist for a pre-calculated duration of time, it added.
First Published:
Sept. 5, 2020, 7:47 a.m.