Public will not forgive six former Congress MLAs for 'selfish acts': MPCC president M Okendro
The Manipur Pradesh Congress Committee said it is unfortunate that the six former Congress MLAs have abandoned the people of their respective constituency amid the COVID-19 pandemic.
---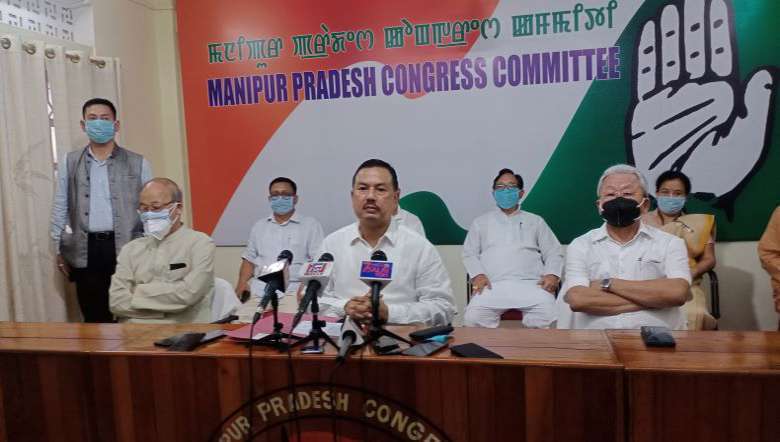 MPCC president M Okendro (Centre) briefing the media in Imphal on August 20, 2020
---
It is unfortunate that five of the six former legislators who left the Congress party recently had to rush to the national capital and join the Bharatiya Janata Party (BJP) by leaving the people of their respective constituency amid the COVID-19 pandemic, the Manipur Pradesh Congress Committee (MPCC) said on Thursday.
The public in Manipur will not forgive the six former Congress legislators for their "selfish act", MPCC president M Okendro said while speaking to mediapersons in Imphal on Thursday.
Claiming that four of the six former MLAs had left the Congress party and joined the BJP in 2017, Okendro questioned, "What is the reason behind joining the BJP again at the national headquarter?"
Also, pointing out that former MLA Abdul Nasir did not join the BJP though he left the state with the other five MLAs, he further questioned, "Is he not allowed to join the BJP as he is a Muslim?"
Recalling the days when NPP, one independent candidate and three MLAs of the BJP joined hands with the Congress party to form an equilateral government, but failed after the BJP took them to the national capital in a charter flight, he said the BJP has become a, "charter flight horse trading company."
Okendro also claimed that the statement made by BJP national general secretary Ram Madhav that "the Congress is destabilising the government," is totally baseless. "The Congress party works only for the public interest," he said.
Although the six former MLAs left the Congress party, more and more people are supporting the party and the result can be seen in the by-election, Okendro added.
First Published:
Aug. 20, 2020, 6:22 p.m.