Manipur HC disposes PIL seeking central agencies probe in all drug haul cases
The PIL petition was taken up before the division bench through video conferencing.
---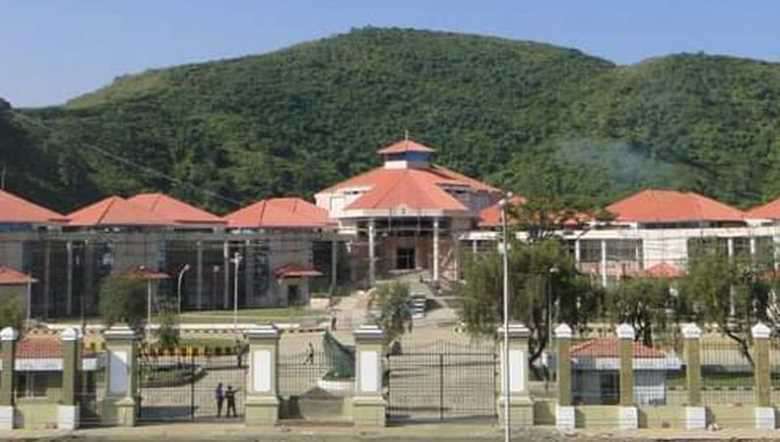 Manipur High Court (PHOTO: Len-IFP)
---
A division bench comprising Chief Justice Ramalingam Sudhakar and Justice Kh Nobin of High Court of Manipur on Tuesday disposed of the PIL seeking to hand over drugs haul cases to CBI/NIA.
The division bench also directed the petitioners to approach the state government and central government for redressal of their grievances before approaching the court. The PIL petition was taken up through video conferencing.
The PIL also sought to entrust a central independent agency like CBI, NIA to investigate into the loss of remnants; attempt to forcefully remove charge sheet from the court of ND&PS Manipur; abduction of the accused person from Imphal by armed militants from Imphal to Myanmar and subsequent surrender in the court (Zou's drug haul case).
As per the petitioners' prayer, the division bench stated that it seeks to entrust the cases to CBI/NIA but the CBI/NIA has not been impleaded as a party of respondent nor has the Union of India been impleaded as a party of respondent.
It was observed that the PIL has been exhaustively published in newspapers and the petitioners are seen to have not admittedly submitted any representative either to the state government or the central government for redressal for their grievances before approaching the court.
So the court without having to examine the correctness or the averments made in the PIL, opined that the court is not inclined to entertain the PIL and it was disposed accordingly.
The court further gave a chance to the petitioners to approach the court again in accordance with law if the petitioners are aggrieved by any action or inaction on the part of state government or central government while approaching them.
It may be mentioned that a Public Interest Litigation filed before the High Court asked for a comprehensive State drug policy to curb the menace of drug smuggling and entrust an independent agency like the CBI or NIA to investigate into all cases involving haul of drugs worth more than Rs 10 crore.
The PIL was filed by the Users' Society for Effective Response (USER) Manipur and Human Rights Alert as petitioners against the State of Manipur represented by chief secretary, additional chief secretary Home, DGP Manipur Police and SP NAB as respondents.
Stating that many of the young generations have fallen prey to the menace of drug abuse in the last few decades, the PIL sought the Court to direct the state government to formulate an effective drug policy and implement it to save the youths and the state.
The PIL mentioned that there have been at least 156 major drug seizures by the NAB (Narcotics and Affairs of Border) Manipur.
First Published:
Aug. 19, 2020, 11:07 p.m.