Spotted Grasshopper found in Manipur's Makhan sparks off concern among villagers
"Such Spotted Grasshopper is poisonous," an expert from Central Agriculture University, Imphal cautioned while speaking to the 'Imphal Free Press'.
---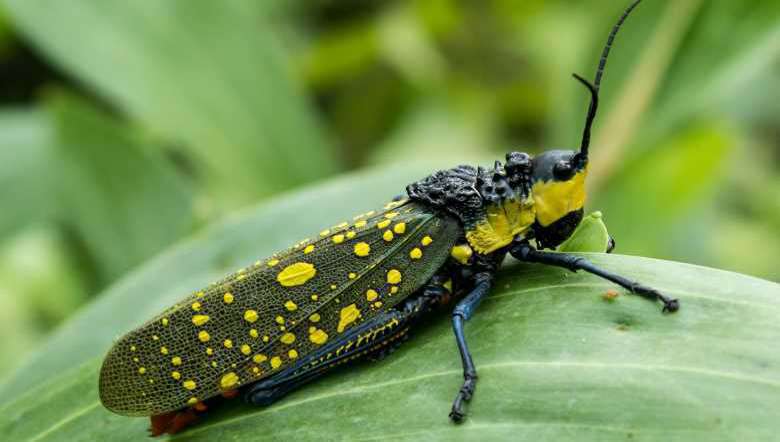 Adult Spotted Grasshopper or Aularches miliaris (Photo: WikipediaCommons)
---
Pretty yellow dotted grasshoppers were found on the hillside of Makhan village at Kanglatombi in Manipur on August 6. As the video of the rare sighting went viral in social media, experts have identified it as an adult Spotted Grasshopper and cautioned against the spread of it. The villagers have also expressed concern and fear of damage to the crops as its number is increasing fast.
Spotted grasshopper or Aularches miliaris is said to be a monotypic grasshopper species of the genus Aularches, belonging to the family Pyrgomorphidae. Study states that the bright colours work as a defense mechanism against predators. When disturbed, it ejects toxic white foam. Which is why, they are also called foam grasshoppers. They are often found in South and Southeast Asia. This is the first time it is being spotted in Manipur, experts say.
The adult Spotted Grasshopperfound in Makhan village as seen in the viral video is the same type of grasshopper found in Thoubal district on July 21, according to expert Kh Ibohal of the Central Agriculture University (CAU), Imphal, Manipur. The ones sighted in Makhan is Spotted Grasshopper in its adult stage, he said, speaking to the Imphal Free Press on the phone.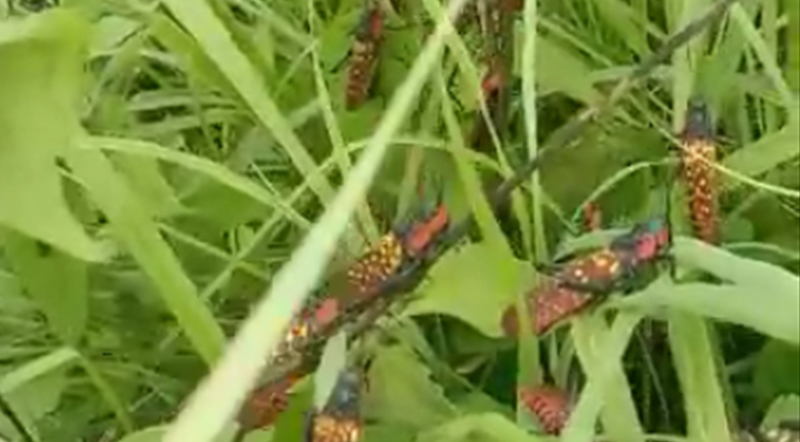 One Makhan Phenthonang, UGB School headmaster, who visited the site where the Spotted Grasshopper was found, informed the Imphal Free Press on the phone that the villagers of Makhan have been witnessing the spread of the insects for the past one month. He said, "Initially, the grasshopper was small and less in numbers. But now their numbers are increasing and the features have changed as they grew bigger".
As their numbers increased, villagers tried to inform the district horticulture department, but they were prevented in view of the lockdown-curfew restrictions. They were instructed by the district administration to do some fact finding and spray insecticides. Villagers, however, fear spraying of insecticides would result in the spread of the grasshoppers to neighboring agriculture land and damage the crops, he said.
The school headmaster said that insecticides were sprayed on the grasshoppers, but not a single one of them were found dead. "It is an emergency-like situation for the villagers. Before it spreads and starts destroying crops, the matter should be taken up seriously," he said, expressing serious concern.
The video also shows white foam coming out on both sides of the grasshopper's mouth, probably toxic foam that they eject when disturbed. "The bubbles are very soft on touching," he told IFP.
Speaking to the Imphal Free Press on the phone, CAU expert Ibohal cautioned the need to take up precautionary measures so that it does not spread to other places. 
It may be recalled that before the species of grasshopper was identified, a wave of fear spread among the villagers of Thoubal district. They feared that the insect might attack their crops. Moreover, reports on locust attacks at various places in India also triggered apprehension among them.
Nymphal stage of grasshoppers was feeding on the leaves of wild plants. This pest damaging cultivated crops is uncommon, the expert said.
Ibohal said black locusts originate from South America and the species was spotted in India in 2019 but it was spotted for the first time in Manipur at Thoubal district. Such species is among other species like desert locust, Bombay locust and Migratory locust, which travel in swarm and destroy crops aggressively. If it turns out to be black locust, there will be immediate threat to crops and vegetables. In large swarms, these locusts become gregarious and bring destruction to crops.
He said black locusts or spotted grasshopper lay eggs on soft ground and they can hatch quickly during rainy season. One can spray Carbofun 3G or Fipronil 0.4G on their crops to prevent damage by these locusts species.
"Such spotted grasshopper is poisonous, don't even eat it," he cautioned.
The northern spotted grasshopper (Aularches Milliaris) are rare species of the world. The grasshopper has been called by a variety of name, including coffee locust, ghost grasshopper, northern spotted grasshopper and foam grasshopper. They are active in autumn, singing and courting attractive females. Once the eggs are laid, female die, researchers say. They say that when Aularches Miliaris is disturbed or grabbed, it emits a sharp rasping noise from its thoracic segments. If it is thorax is pinched, it also squirts a clear viscous mucus with unpleasant smell and better taste, faintly alkaline with many embedded bubbles, according to studies.
First Published:
Aug. 8, 2020, 11:36 a.m.