How firewood is helping to reconnect amid the fight against Coronavirus in Tamenglong?
As several people return home to Tamenglong in Manipur, Community support in the form of firewood donation has been helping the district cope with the COVID-19 crisis.
---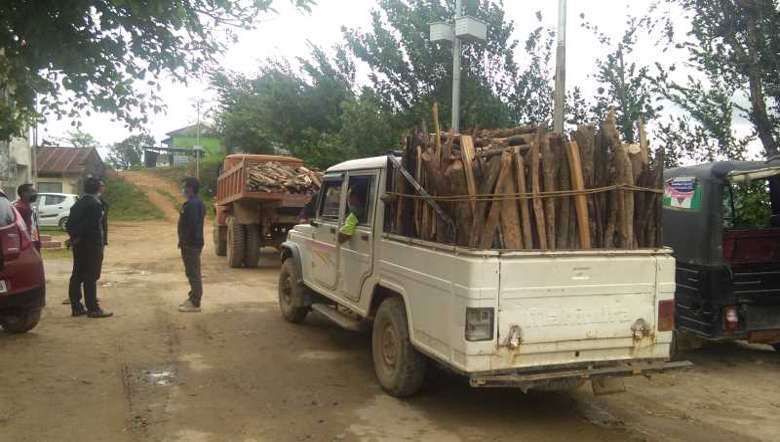 Villagers bring firewood for quarantine centres in Tamenglong (PHOTO: IFP)
---
Coronavirus crisis has caused much threat to man's survival today, but the pandemic has also helped people reconnect with their roots, besides renewing the bond of brotherhood and reviving humanity amid the struggle. In Manipur's hill district Tamenglong, as its people from different parts of the country return home, community support in the form of firewood donation is helping to reconnect and fight against COVID-19.
Apart from the voluntary services at the 15 quarantine centres in the district, several organizations and individuals in the town and villages have been coming forward with donations in cash and essential items, including food and fuel. Many have brought truckloads of firewood, apart from homegrown vegetables from the fields and forest, for the quarantine centres. The donation of firewood is unique to hill regions. In fact, firewood serves as one of the most essential items in this hilly and cold rainforest region of the state which is often hit by heavy rainfall during monsoon. The heavy rainfall often disrupts power supply, communication network and damage road, posing difficulty in transportation of essential items. During such difficult situation, the locals make do with the resources available, including firewood as fuel.
It may be pointed out that the use of firewood is an age-old common practice of the people living in the region and has a deep-rooted significance linked to the age-old sustainable knowledge system of the people.
Significance of firewood to the people in Tamenglong
People of Tamenglong are highly dependent on firewood as a source of energy and cooking fuel. Some say food cooked in the traditional method using firewood is tastier than when cooked in other methods.
Although people now have access to LPG cooking gas and electrical appliances for cooking, many continue to rely on firewood due to the following reasons:
1.  Climatic conditions: The district experiences rainfall almost throughout the year. It gets heavy during the rainy season. Unlike other sources of energy, firewood gives warmth and lively feel to the place. People here use firewood, not only for cooking but as the most reliable source of energy to keep themselves warm during the rainy season and cold winter season. Firewood is also the only practical form of heating for most of the families in Tamenglong.
2.  Lifestyle, culture and tradition: Unlike in urban kitchens, the people, especially the elders, prefer to keep the hearth of the kitchen burning the whole day which is not feasible in case of other sources of energy. In almost all traditional kitchens, one would find a hot tea kettle in the hearth. It is customary of the people in the region to serve every visitor with hot steaming red tea brewed with homegrown tea leaves as a welcome drink. It is a sign of great hospitality. Moreover, bonfire is an important feature of any celebration and social congregations. People often gather around bonfire with singing and hearty talks. It sparks off warmth, happiness and good memories.
3.  Location: Tamenglong is the farthest district of Manipur from Imphal. It is situated 147 km away from the state capital. Villages are located far away from the district headquarters without motorable roads. Access to LPG is still considered a luxury. Many are still dependent on the traditional way of cooking using firewood as their only source of fuel.
Why firewood donation matters in the fight against COVID-19
Speaking to the Imphal Free Press, RK Ading, Tamenglong Baptist Church, (Council) women society president, who led the catering department of quarantine centres in the district headquarters, said that donations of different kinds continue to pour in, but firewood is very much needed to run such a big kitchen.
"Our relationship with firewood has been age old. It has been our only main source of energy and fuel. Firewood, used throughout the year, irrespective of the season, serves multiple purposes for the people of Tamenglong," she said.
Whenever there is any congregation, food is cooked using firewood only, LPG gas is used only for miscellaneous purposes, Ading said. She said that Tamenglong being a rainy district, many prefer to use firewood to LPG for cooking as it keeps the house warm and homely.
Namjianliu Riamei, Zeliangrong Baptist Church's women society president, another catering in-charge, said firewood is the only feasible source of fuel and energy for the people of Tamenglong.
"Cooking with LPG for a community or many people is almost impossible here. There are no big stoves which could be used for cooking for a large crowd. LPG is not reliable for community cooking purposes in Tamenglong, Riamei said.
Hence, firewood donation during such times when hundreds of returnees are quarantined is commendable, she said.
Firewood: Problem of accessibility
"Firewood is expensive in the district headquarter. A basket of firewood costs between Rs 250 to Rs 350 depending on the quality while a truckload of firewood costs around Rs 20,000," Riamei told IFP.
Tamenglong being a rainy district, it is difficult to get dry firewood during the monsoon season, hence people usually stock up firewood in the dry winter season for future use, she added.
She continued, "The women folk who are manning the quarantine centres' kitchen initially faced difficulty in starting up the fire as the donated firewood was wet. But thankfully, the church willingly offered to use its dry firewood instead in exchange of the wet firewood," Riamei added.
Road and transportation in this rain-hit place continues to be a challenge to the district.
Truck Owners Association, Tamenglong, one of the major donors of firewood for the community quarantine centres, highlighted the difficulty in transporting firewood.
RK Ditinang Panmei, vice president of the association, said, "Firewood is not available at the headquarters. Hence, we had to buy firewood from nearby villages. Contributing for the price of firewood was easy; transportation is the main concern here as the roads are muddy and slushy. Besides, incessant rainfall added to our difficulty," he added.
Why donate firewood for quarantine centres?
Panmei said that cooking for the returnees would be difficult without firewood.
"Economically, LPG cost cheaper compared to the price of firewood. But our people are reliant on firewood since time immemorial. Even families with LPG connection, have a traditional kitchen which rely on firewood as fuel. This shows the importance and connection of the people with firewood," Panmei said.
Another firewood donor called Direiyang Riangluai Kikta (Kins of late Direiyang) said, "We wish to help and make the returnees feel at home. We (Direiyang Riangluai Kikta) are around 25 families, we contributed some amount of money, bought firewood from a nearby village and donated a truckload of firewood for the quarantine centres."
In an interaction with the families living in the town, they emphasized on the need for firewood to manage the quarantine centres.
"Firewood is one of the main requisites to manage the quarantine centres. Other essential items are available in the market but the catering department needs cooking fuel for manning the kitchen to serve warm cooked foods," a family member who doesn't want to be named told IFP.
While everyone has been advised to stay home to stay safe from COVID-19 infection, there are generous givers and caring souls whose only objective is to ensure that their brothers and sisters who have returned home are served home-like cooked foods during their quarantine period.
Several natives of the district, who had moved to other parts of the country for better education and jobs, have now returned home due to the outbreak of the coronavirus pandemic and the lockdown situation. Welcoming their return, the community continue to show love and affection in taking care of the needs of returnees lodged at the different community quarantine centres.
First Published:
Aug. 5, 2020, 8:08 p.m.