Govt must clarify on protocols for returnees by air: Congress MLA Joykisan
Joykisan was speaking at a press conference held at his residence located at Thangmeiband, this Sunday.
---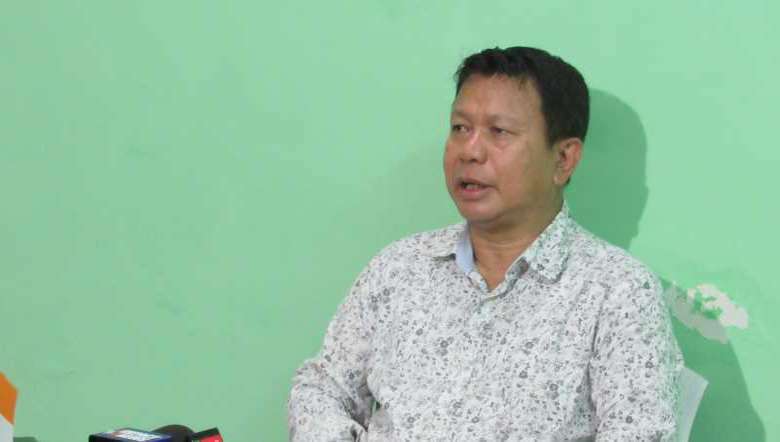 Congress MLA Joykisan briefing the media on July 19, 2020 (PHOTO IFP)
---
The government should clarify whether there is a separate protocol to be followed by various sections of people who return to the state by air. Will the government take the responsibility if community transmission started, asked Congress MLA Kh Joykisan on Sunday.
Joykisan was speaking at a press conference held at his residence located at Thangmeiband, this Sunday.
Joykisan said recently four ministers went to Delhi to meet central leaders. When they return at the airport they were tested for 'rapid antigen test'. After they were found negative they seemed tohave got back to their home without quarantined. For the public who return in the same airport they were ask to test for COVID and informed them to continue for quarantine, he added.
Government should clarify that is there a separate protocol for VVIPs. If a VIP or VVIP is infected with corona virus, does the virus do not transmit to others, he questioned. Government needs to announce the public to clear the confusion the protocols to be followed by the people irrespective of caste, creed, rich or poor, he added.
At present the active case of COVID-19 in the state has been increasing, moreover police personnel, doctor, volunteers have started infecting with the virus. But the government is saying that it is local transmission but not community transmission. If one minister is infected, the individual can spread the virus easily as being a minister, he/she is interacting with various sections of people, he added.
The protocol to be followed by a returnee should be made equal as the infection of corona virus do not select people, said Joykisan.
He appreciated the government for taking various developmental steps in connection with the present COVID issues, including establishment of consultative committee that includes MLAs from ruling, opposition and other experts.
But during the meeting some ministers with the impact of political issues failed to turn up. He said those minister do not have sense of responsibility, due to the reason they failed to turn up in the meeting which is to be discussed for the present issue of COVID-19, he added.
Some MLAs and minister are focusing on renovation and construction of roads and others, if Manipur becomes deserted place then what will be the reason for the development work, he said. In the present situation they should give the priority on human health and to save life.
The government should take the issue seriously.
He said for Thangmeiband assembly constituency admission of returnees in the community quarantine center will be over from July 31. He appealed to the people to cooperate each other to make Manipur a green zone again.
First Published:
July 19, 2020, 11:01 p.m.