Manipur to touch new heights of achievements, says Union minister Rameswar Teli
e-SHRAM registration cards were distributed to 30 unorganized workers while Pension Payment Order (PPO) was distributed under "Prayaas" initiative of EPFO.
---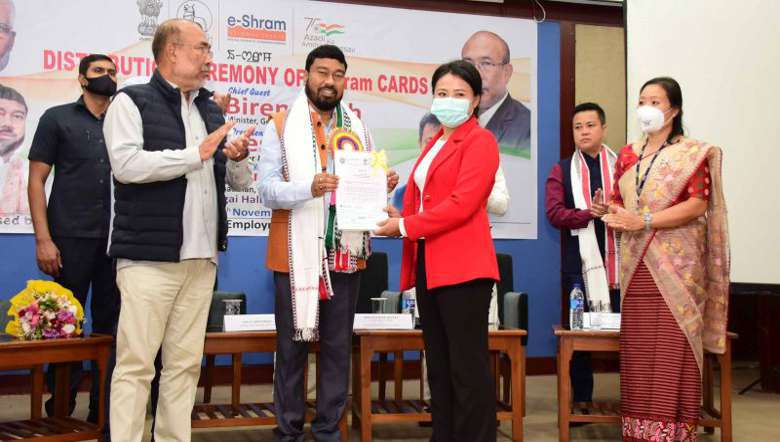 Union Minister of State Labour and Employment Rameswar Teli on Friday said that Manipur will touch new heights of achievements with registration and better implementation of the e-SHRAM portal.
The government developed the e-SHRAM portal for creating a National Database of Unorganised Workers (NDUW) for the first time under Prime Minister Narendra Modi, the minister said.
Teli was speaking at the distribution ceremony of e-SHRAM cards held on Friday at the Sangai Hall, Hotel Imphal which was organised by the Department of Skill, Labour & Employment, Entrepreneurship, government of Manipur.
e-SHRAM registration cards were distributed to 30 unorganised workers while Pension Payment Order (PPO) was distributed under the "Prayaas" initiative of EPFO.
The minister also distributed cheques and certificates to the ESI beneficiaries present at the function.
Addressing the gathering, Teli said that about Rs 7 crore, 30 lakhs workers and labourers have registered in India till now under the e- SHRAM portal while the target for Manipur is about 8.65 lakhs.
He said that e-Shram registration started on August 26 and till day 7 crore 30 lakh have already registered and hoped that the target will be reached soon. He also said that Cheques have been given to families whose members have died and also to people who lost their jobs. He also said the place or area where LPG reach is less than 90 per cent will give connections soon.
Teli appealed to people from petroleum companies present to try and achieve the target and appealed to the CM to achieve 90 per cent in nine districts in Manipur.
Minister Teli also encouraged the labourers and construction workers of Manipur to register to the eSHRAM portal so that they can avail of the facilities and benefits of the e- SHRAM cards. He also stated that in case of sudden death during labour work or construction activity, the insurance is about Rs 2 lakh whereas in case of injury, the insurance amount is about 1 lakh. The only documents needed for registration are bank account, telephone number and AADHAR card. Workers can register at Panchayat offices, CJS centres etc. at free of cost, he also added.
Chief Minister N Biren, expressing concern for not registering the e-Shram by labourers of the state, stated that the e-Shram is like insurance that does not need money for registration.
MLA & Chairman, MBOCWWB, Manipur Heikham Dingo said that about 58,000 cards have been distributed to unorganised workers at Manipur now out of a total target of 8 lakhs.
The Labour & Employment is an important Department usually ignored by the public but it provides health, educational and other benefits. Unfortunately, for about two and a half years, the department has been lying defunct due to Covid pandemic, he also said.
Works and Industries Minister Th Biswajit highlighted that if one registers to the e-SHRAM portal, he can avail of the benefits of PMUY, Ayushman Bharat and other social security schemes.
Deputy Labour Commissioner, K Bono Singh stated that Manipur at present ranks 24 amongst the states and union territories of India in e-Shram card registration. A short video clip on eSHRAM portal was also played during the function.
Meanwhile, a press conference was also held with Minister Rameswar Telli on the plan-layout of his Ministries in connection with Manipur. He assured to look into account the need of constructing petrol pumps at 3-4 km distance locations and LPG distributors in villages if needed, he mentioned.
First Published:
Nov. 13, 2021, 1:03 p.m.