Childline Advisory Board Tamenglong holds first meeting
Childline Service Tamenglong (CLST) has reached out to as many as 2,500 children and 2,000 adults, extending to far flung areas, according to a report.
---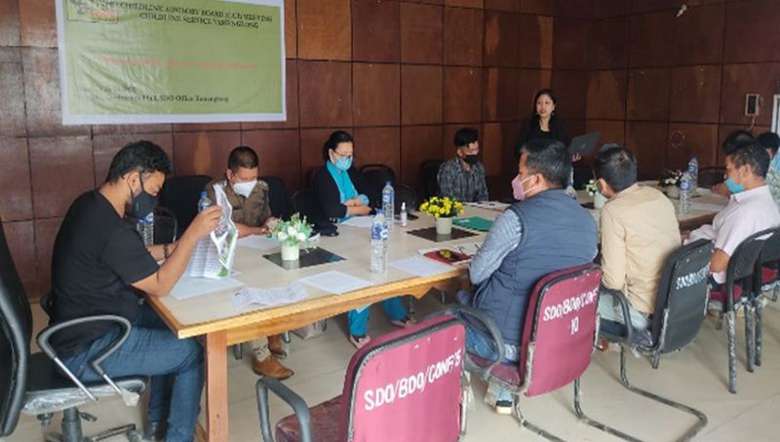 Childline Advisory Board (CAB) Tamenglong held its first meeting on Monday at the Conference Hall of SDO Office Tamenglong under the chairmanship of SDO Tamenglong Rohit Anand with the attendance of district level officers Tamenglong and members of the board.
Childline Service Tamenglong coordinator Buanthanlungliu Panmei made a presentation on the vision and mission of the childline, its objectives, and actions of childline, intervention models and child protection activities along with notable achievements the childline has made till date, stated a release.
She mentioned that Childline Service Tamenglong is an emergency service launched on 16 July, 2020 and functions 24/7 to assist, aid and rescue children in distress or in trouble through its toll free number 1098, it stated.  
The Childline team on receiving a distress call arrives at destination within 60 minutes and depending on the cases, rehabilitation, counseling and constant follow up on the well-being of the child is provided, it further stated, adding Childline service targets 0-18 years of age.
It mentioned that according to a report, Childline Service Tamenglong (CLST) has reached out to as many as 2,500 children and 2,000 adults, extending to far flung areas and has intervened successfully a total of 82 cases which included missing child cases and child marriage case. 
It further stated that numbers of children belonging to economically deprived families are provided nutritious items linking them to CCI (depending on the cases) while counseling is provided to "substance abuse children". She also highlighted challenges the team faces in providing services and expressed concern of the unavailability of CMPO Tamenglong, networking issues, unavailability of observation homes and rehabilitation Centre in Tamenglong, it stated.
The Childline team also appealed to all the DLOs to extend continuous cooperation in their various capacities so as to make the services more effectives. Rohit Anand addressed all the issues raised by Childline team and assured of full cooperation and support despite acknowledging the challenges the Childline are facing and to resolve the same, it stated.
It stated that he gave the assurance of writing to the Social Welfare committee to start a rehabilitation centre in Tamenglong. The SDO acknowledged that Childline logo be put up in all official websites to spread awareness. A short video on Child sexual abuse 'Komal video' in Rongmei local dialect was also released during the meeting, it added. 
First Published:
Oct. 25, 2021, 11:46 p.m.