Manipur: Miphai Tang Phalee village inaugurated, foundation stone laid for eco-tourism destination at Koirer Anyee
Lungchong Miphai sub-division is situated in between Phalee and Teinem village in the west of Ukhrul district.
---
(PHOTO: IFP)
---
Miphai Tang Phalee village, a new locality situated in the heart of Lungchong Miphai sub-division, was inaugurated and foundation stone of an eco-tourism destination at Koirer Anyee was laid by Chingai assembly constituency MLA, Khashim Vashum on Saturday.
Lungchong Miphai sub-division is situated in between Phalee and Teinem village in the west of Ukhrul district. The new locality at the sub-division is inhabited by 50 households from Phalee village and a settlement close to SDO office was started in 2020. Declaration of the new settlement was made by Phalee village headman A Wungreingam.
The programme was attended by Jessami VIllage council chairman; Soraphung chairman; Teinem chairman; Ngainga chairman; Talloi headman; Kuingai headman; Phalee headman; former ADC member, Lawrence; EM Kapangpam; EM Thanchipem; EM Khayinghor; Kuingai headman; well wishers and villagers.
According to Phalee VAC vice-chairman A Wungpam, the MLA has provided machinery including a JCB for undertaking earthwork and road construction for two months. He also thanked Vashum for his contribution and wished the best in his ministry.
Speaking at the programme, Vashum urged the residents of the newly inaugurated Miphai village to encourage, support and promote each other in making the village a beautiful place to live. He also assured to provide one water storage tank (Sintex) each to all the households, in addition to providing water pipes for the locality.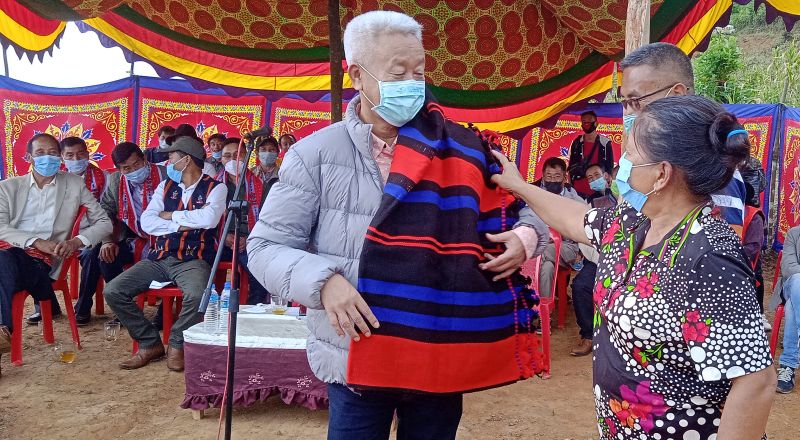 (PHOTO: IFP)
Vashum further said that Lungchong Miphai sub-division has the potential to become a town considering its massive population, educated persons and their good nature.
"Sooner or later it will emerge as the best spot for tourism. The area was put into the tourism map with small investment and this small step is a window towards a larger picture," said Vashum.
Talking about roads and communication, he said that when he joined politics he did not see any black topped road in Sagolmang area, however, Teinem to Changta road has been black topped recently, followed by Maichon to Somdal road.
Elaborating on the works he had initiated, the MLA asserted that he had done what possibly he could render for his assembly constituency, and maintained that he had not sidelined or given due importance to any area.
Moderated by Thotyo Ramshan, the programme began with invocation and blessing announced by PNBC pastor, Rev Yangmaso while assistant pastor, A Wungmathot pronounced the benediction.
During the programme, Tangkhul singer and actor, Oshimwo enthralled the public with his special hits.
First Published:
Oct. 9, 2021, 11:50 p.m.