School Reopening: Risks and kids' vaccines
In the column, the author talk about the issues of pan-coronavirus (multivariant) COVID vaccines, upcoming anti-COVID pills, the risks of school re-opening, and the scenario about Children's' Covid vaccines in India.
---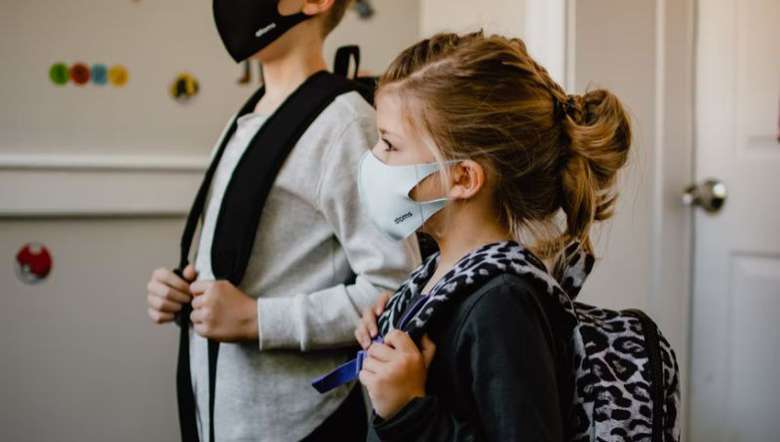 Representational Image (Photo: Unsplash)
---
As the current vaccines were designed against the original coronavirus and not the subsequent variants such as the Delta variant, they are not very effective in preventing infections by such variants. Therefore, intensive clinical research has been going on to develop multivariant or pan-COVID vaccines that can target not only the original coronavirus but also the later coronavirus variants. Such vaccines are targeted not just against the spike protein of SARS-CoV-2 virus (as in most current vaccines) but also against non-variable non-spike antigens of the coronavirus.
One such multivariant vaccine is being developed by the UK pharma company,Gritstone, and is code-namedGRT-R910, and has begun clinical trials to test its efficacy and safety as a booster against coronavirus variants (The Mint, Sep. 21, 2021). The trial is being done by Gritstone in collaboration with the University of Manchester and Manchester University NHS Foundation Trust. The trial will involve participants over the age of 60 in the UK.
Such booster vaccines became currently warranted as the immune response triggered by first-generation vaccines wane over time, especially in older people. GRT-R910 vaccine is described as a self-amplifying mRNA second-generation SARS-CoV-2 vaccine (SAM) which delivers antigens derived from both the spike and non-spike proteins of the coronavirus. SAM COVID-19 vaccine is designed to elicit robust T-cell immune responses, besides strong neutralising antibody responses, offering the promise of longer lasting immunity, according to Dr Andrew Allen, CEO, Gritstone.
The trial aims to recruit 20 volunteers, with data about the efficacy and safety of the vaccine expected in the first quarter of 2022. Though the current trial is in people aged over 60, future studies may also examine its efficacy in other vulnerable populations. The trial is evaluating two different dose levels of GRT-R910, given at least 4 months after the 2nd shot of an initial vaccine. However, completion of trials, review of the findings, and possible approval are not likely to be completed before the end of 2022.
This booster vaccine seems promising as current vaccines are targeting the spike protein, which is evolving and sometimes partially escaping vaccine-induced immunity, and GRT-R910 vaccine is targeting not only spike proteins but also highly conserved non-spike viral proteins that may be less prone to genetic variation.
Anti-Covid Pills
Several Covid prevention pills (drugs/medicines) are now on the way from the laboratory to the clinic. These medicines mitigate the risk of developing serious COVID infections. Many of them have been shown to significantly reduce the risk of hospitalizations and deaths.
One such pill is the one developed by the pharmaceutical giant, Pfizer Inc (TOI, Sep. 30, 2021). it's a protease inhibitor and has been code-named asPF-07321332. It works by blocking the activity of a key enzyme needed for the virus (SARS-CoV-2) to replicate. The antiviral is to be administered orally to a person suspected to have been infected with the Covid virus in the early stage and prevent serious illness, hospitalization, and death.
The clinical trials of the drug is in its preliminary phase and it's being tested in over 2,600 volunteers in combination with another antiviral called Ritonavir. The findings of the trial are expected to be available for review by the first quarter of 2022. If it's found to be effective and safe, the pill may be made available before the end of 2022.
The caveat is that this Pfizer drug will only be useful for only the nascent stages of infection and the medicine may not be suitable for people who are hospitalized or have severe infections.
Another drug in the pipeline ismolnupiravir(The Economic Times (ET), Oct. 2, 2021). The pill's maker,Merck, claims that it could reduce hospitalizations and deaths by about 50% in people recently infected with the coronavirus. The company aims to request health authorities in the US and around the world to authorize the use of the drug soon. If approved, molnupiravir will be the world's first specific anti-COVID oral pill in the world. In contrast, remdesivir was originally developed as an antiviral drug for the Ebola virus and is administered by IV injection.
Risks of School Reopening
Several states in India have re-opened schools, while other states have decided to defer re-opening of schools for the time being. Opinions are sharply divided over the possible risks of Covid infections in children after reopening of schools. Some opine that it's risky to open offline classes in schools as children have not been vaccinated yet, while some others assert that the risks of severe infections and deaths in children is very low.
However, a worrying development is the surge in COVID cases in Orissa and some other states after the reopening of schools (The Federal, Sep. 24, 2021). A sudden surge in Covid cases among children and teens below 18 years of age has been reported in Odisha. Some have considered the surge to be the onset of a third wave in India. Dr Swarupa Panda, a pediatric doctor, said that the surge among children would increase in the coming days, but he also asserted that the recovery rate among kids is good, unless they have underlying conditions such as diabetes and hypertension. On the other hand, Dr Chandrakant Lahariya, well-known epidemiologist, opined that the spike in cases is due to the increase in testing among adolescents and also that children are not at risk of severe disease. Surge in infections in children have also been reported in parts of Punjab, Bihar, Karnataka and a few other states.
In any case, many parents are wary of sending their children to schools. On the other hand, there are many problems that children face in online classes: eyesight trouble, depression, and mental health. But the onset of festivals compounded by crowding in many sectors, election campaigns and school reopening could lead to an unanticipated surge in cases in children. Vaccines for 12-17 year-olds are expected to come in October-November, 2021. Should we wait till then? Or, till all adults are fully vaccinated (given 2 doses)? But only about 25% of adults in India have been fully jabbed so far. Or, is it better to wait till all school teachers and staff and elderly at the homes of school children are fully vaccinated? How about monitoring the standard SOPs in schools such as classroom size, regular sanitization of spaces in schools, indoor ventilation condition, thermal scanning, and regular Covid testing etc? We are trapped between the Scylla and charybdis. Not opening schools is a big loss for our children but the risks of opening are not fully known on the other hand. We must, therefore, tread a careful, considered and measured middle path!
Children's' Vaccines in India
Manychildren's vaccines are in different stages of development in India. The frontrunner isZyCov-D, Zydus Cadila's DNA vaccine which has already been approved for people of age 12 and above. The government plans to start rolling out the vaccine for comorbid kids aged 12-17 by October-November (TOI, Sep. 14, 2021). That is, children with obesity, heart problems or weak immune systems will be eligible to get this vaccine by October-November. The government is waiting for Zydus Cadila to begin supplies, and begin inoculations of children soon. However, in 2021, only children with co-morbidities will receive the vaccine doses. The rest of the children may start getting the vaccine only in the first quarter of 2022.
Approximately, 20-30 lakh children with co-morbidities in India will be eligible for the first round of kids' vaccination.
Other pediatric vaccines in development in India includeCovaxinof Bharat Biotech and the vaccine candidates being developed bySerum Institute of India (SII)andBiological E.
There are an estimated 44 crore children aged under 18 in India. Of this, about 12 crore are of age 12-17. Due to limited supplies as of now, only 20-30 lakh children with comorbidities in the age group of 12-17 will be eligible for vaccination in the first phase, out of the total population of 12 crores.
Possible measures for Manipur
We need to assume that there may be a third wave in Manipur too. Even if that may turn out to be a wrong anticipation, it's better to err on the side of caution. Accordingly, we must initiate measures to squarely face a possible third wave in our state. These may include:
Conducting immediate seroprevalence studies to understand what percent of population in Manipur and in its different districts are still susceptible to the coronavirus.

Speeding up vaccinations in a big way; aggressive vaccinations with monthly targets to cover all eligible population with first doses in the next few weeks (4-6 weeks); and targeted vaccinations of all adult population with second doses in the next 2-3 months.

Regular & repeated COVID testing in hotspots.

Enhancing the ratio of RT-PCT to Rapid Antigen Testing (RAT).

Weekly "awareness messaging" about the pandemic to the public by a designated healthcare official.

Genomic sequencing of a subset of positive cases and surveillance of the variants including the delta variant: which COVID strains are there in Manipur, where are they, and where are they moving towards; and whether any new variants are emerging.

Contact tracing and government-monitored isolation of positive cases, wherever feasible.

Boosting up healthcare provisions such as medical oxygen plants, tankers and cylinders; steroids, antifungal drugs, oxygen concentrators, ventilators, oximeters, masks, PPEs, sanitizers etc.

Strengthening of healthcare infrastructure such as construction of new COVID hospitals.

Provision of more COVID care centres (CCCs), more Covid beds and ICUs in existing hospitals

Constitution of a special taskforce for the third wave; a separate taskforce for pediatric COVID is also highly recommended.

Special provisions for kids such as pediatric hospitals, wards, and ICUs, pediatric oximeters, concentrators, and ventilators and strengthening of staff such as pediatricians and pediatric nurses and paramedical workers etc.
First Published:
Oct. 3, 2021, 2:32 p.m.