Manipur Speaker setting bad precedent of parliamentary democracy: Political leader O Joy
Manipur political leader O Joy said that the statements made by the state Assembly Speaker were unconstitutional and impaired the parliamentary system of democracy.
---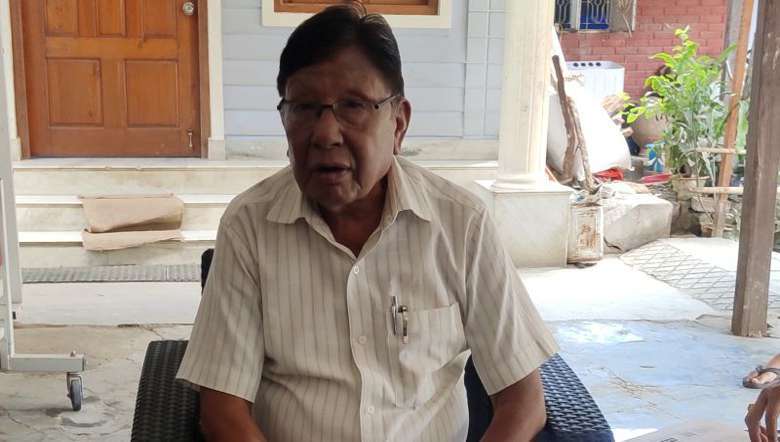 O Joy Singh (PHOTO: IFP)
---
Strongly reacting to Manipur Legislative Assembly Speaker Y Khemchand Singh's explanation for joining political functions, political leader O Joy Singh claimed that the statements made by the Speaker were unconstitutional and impaired the parliamentary system of democracy.
Speaking in a press meet held at his residence in Singjamei, Imphal, O Joy said that the last session of Manipur Legislative Assembly was adjourned sine die on August 24. Therefore, there is still time to call another session as per provision of Article 174 (1) of the Indian Constitution. The Article states that the gap between sessions of the house should be less than six months, he said.
Moreover, the Speaker does not have the power to summon or prorogue sessions according to rule number 55 (IV) of business of government of Manipur, 1972 based on article 166 clause (2) and (3) and of Indian constitution, he said. He informed that the house can be convened only after issuing an order from the chief minister to the governor. The veteran politician further questioned how Khemchand could make such claims that "final sitting of house was ended" when there are such rules.
O Joy said Khemchand is still holding the post of the Speaker by observing the norms of the constitution. He pointed out that according to article 179 of Indian constitution, office of speaker and deputy speaker can be vacated only when he or she resigns, ceases to be member of the Assembly or removed by passing a resolution. However, such steps have not been done till date, he added.
By sidelining all these rules knowingly or unknowingly, Khemchand attended the political programme which has been very unfortunate, he said. While holding such constitutional and highly dignified posts, Khemchand should not get involved in all these party meetings and should remain neutral, he added.
He also denounced the BJP for inviting the speaker in a political function, stating that "inviting a speaker of the assembly in such a function and allowing him to speak in favour of their party shows that BJP is unconstitutional and breaks the rules of parliamentary system of democracy."
It may be mentioned that during the function of 105th birth anniversary of Pandit Deendayal Upadhyaya held at Singjamei held on September 25, speaker Khemchand had expressed that he started joining the political programme of BJP after considering that the final sitting of Manipur Legislative Assembly session has ended for the present government. 
First Published:
Sept. 29, 2021, 10:22 p.m.