Interactive session with UPSC successful candidate held
Waikhom Nydia cleared the civil services examination by securing 180th rank.
---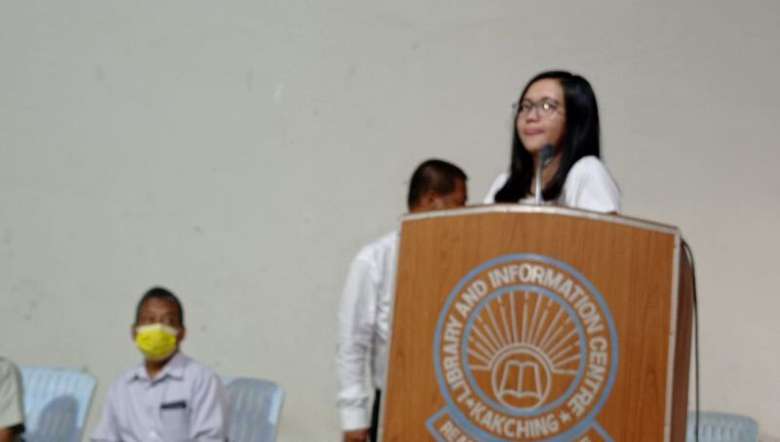 (PHOTO: IFP)
---
In continuation of the Special Sunday being organised by Library and Information Centre, Kakching, an interactive session with Waikhom Nydia who cleared the civil services examination by securing 180th rank was held during the 180th episode of the programme on Sunday.   
The session was taken part by VP of the Library M Kunjabihari singh, retired principal DIET Kakching N Biramanggol and father of Nydia Waikhom Ibotomba.   
During the programme, more than 140 students from around the Kakching interacted with Waikhom Nydia in a question-answer session.
She said that one may set many unrealistic goals during childhood, but as one releases his or her potential, they must set their ambitions accordingly.  
She further said that students must not be afraid to take the civil services examination conducted by UPSC. "As students, if we remain clear about each and every part of the syllabus that we are learning now, then this examination becomes easy," she said.    
She said that she attempted the examination five times to clear it. She learnt her own mistakes and shortcomings along the way as she struggled to clear it, she added.    
If the students are determined to clear the examination, then they must consult with the experts and teachers and make their own strategies, and put all their hard work into it, she said. They will definitely become successful if they do so, she added.
Instead of going through additional books, one should take part in many mock tests to find out one's shortcomings, she mentioned.  
If the students want to take the examination with the goal to be a part of the state administration, she will provide them possible assistance, she assured.  
First Published:
Sept. 26, 2021, 11:53 p.m.