Five more persons die due to COVID-19 in Manipur, death toll surges to 1,843
As many as 209 more persons tested positive for COVID-19 in Manipur.
---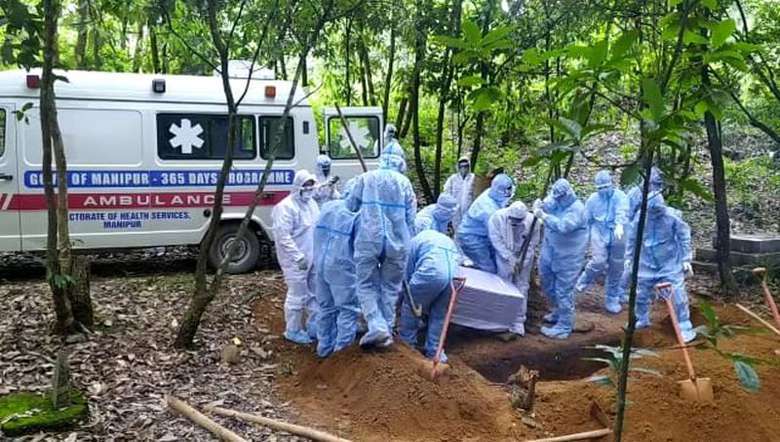 (File Photo: IFP)
---
COVID-19 claimed five more lives in Manipur, taking the death toll to 1,843 in a span of 24 hours, while 209 more persons, including one Central Armed Police Force (CAPF) personnel, tested positive for the viral infection during the same period, according to the latest updates by the state health department.

The five COVID-19 fatalities were reported from Churachandpur, Imphal East, Imphal West, Kangpokpi and Senapati. Of them, three had co-morbidities, onw was vaccinated with the first dose while one was vaccinated with both doses, as per a release issued by the state COVID-19 Common Control Room.

A total of 3,101 test results were received on Friday, of which 209 were found positive for COVID-19 and the daily positivity rate is 6.8 per cent. With these new positive cases, Manipur's COVID-19 tally reached 1,19,445, according to the health department.

Imphal West is the worst-hit district in the state with 40,942 confirmed cases and 613 deaths, followed by Imphal East with 26,426 infected cases and 433 deaths and Churachandpur district with 9,991 cases and 157 deaths, as of Friday. 

On Friday, as many as 105 new COVID-19 positive cases were reported from Imphal West alone. The other new COVID-19 positive cases included 43 from Imphal East, 11 from Ukhrul, 10 from Kakching, eight from Thoubal, six each from Chandel, Kamjong and Kangpokpi, four each from Bishnupur, Senapati and Churachandpur, and two from Tamenglong.   

All necessary medical precautionary measures like containment and contact tracing are in place, the release stated.

It further stated that a total of 179 persons were discharged in the last 24 hours, However, due to various reasons, 267 persons were reported as discharged cases only on Friday. Hence, the total number of recovered cases is 446 after reconciliation with reports from IDSP team, home isolation team, community home isolation and hospitalisation team as of Friday.

With these new recoveries, the cumulative number of recovered cases is 1,15,573 and the recovery rate is 96.76 per cent, leaving the number of COVID-19 active cases at 2,029, as per the release.

Meanwhile, the cumulative number of doses of COVID-19 vaccine administered in the state reached 16,51,313 (first dose: 12,17,378 and second dose: 4,33,935).

A total of 1,069 D-type oxygen cylinders and 373 B-type oxygen cylinders have been made available to different health facilities of the state in the last 24 hours, it added. 
According to the release, there are 438 vacant general beds and 102 ICU/HDU beds of COVID-19 in seven hospitals of Manipur. 
 
In CMC, Koirengei (Contact No. 9612636004/9612905628) there are 30 vacant general beds and six ICU/HDU beds;  in Iboyaima Hospital, Singjamei (Contact No.7005436870/ 9612022125) there are 25 vacant general beds and five ICU/HDU beds; in Jivan Hospital, Kakching (Contact No. 9366034272/ 7085348366) there are 20 vacant general beds and five ICU/HDU beds; in Shija Hospital (Contact No. 9436807346/7005125158) there are 50 vacant general beds and 37 ICU/HDU beds; in Raj Medicity (Contact No.7005105552/9366496411) there are 75 vacant general beds and 25 ICU/HDU beds, in RIMS (Contact No. 7640862396) there are 187 vacant general beds and 22 ICU/HDU beds and in JNIMS (Contact No. 8837342526) there are 51 general beds and two ICU/HDU, it mentioned.
First Published:
Sept. 24, 2021, 5:36 p.m.