ECI announces summary revision of electoral rolls for Manipur
First Level Checking of EVMs will start from October 4 in all the districts, Manipur chief electoral officer Rajesh Agrawal informed on Thursday.
---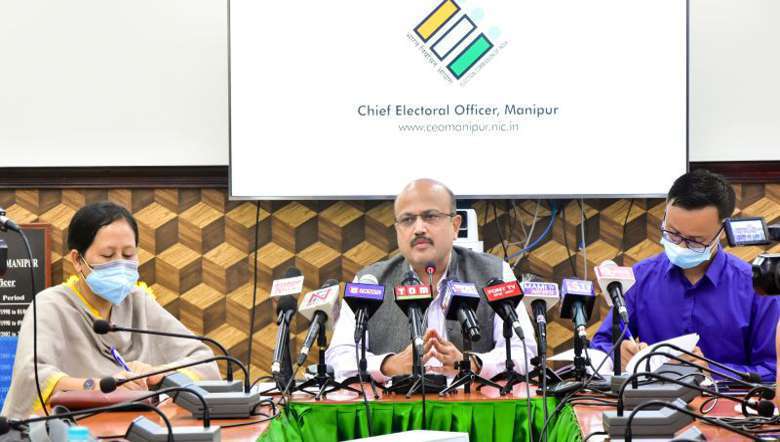 (PHOTO: IFP)
---
Manipur chief electoral officer Rajesh Agrawal on Thursday said that the Election Commission of India (ECI) has announced the schedule for Special Summary Revision with respect to January 1, 2022 as qualifying date. Any citizen of India who is born on or before January 1, 2004 shall be eligible to enrol in the Electoral Roll from November 1, 2021.
This was stated by the chief electoral officer, Manipur during a press conference held in the presence of joint chief electoral officer, Manipur Ramananda Nongmeikapam and Co-ordinator, Permanent Media Cell and state nodal officer for Media Waikhom Phajatombi at the Conference Hall of chief electoral officer, Manipur, Lamphelpat.
Rajesh Agrawal highlighted the various activities taken up for the ensuing General Election, 2022. The Schedule of Special Summary Revision, 2022 includes Pre-Revision activities and Revision activities.
As part of the Pre-Revision activities, removal of all DSEs/multiple entries/logical errors etc, H2H verification through BLOs (as needed), Proper formation of sections; and Rationalisation of polling stations from August 9 to October 31.
The Revision activities includes Publication of Integrated draft electoral roll on November 1, period for filing claims and objections from November 1 to 30, Special campaign dates are  November 13, 14, 27 and 28, Disposal of claims and objections by December 20 and final publication of electoral roll by January 5, 2022.
Agrawal also informed that any eligible citizen who attains the age of 18 as on January 1, 2021 can enrol in the Electoral Roll before the Summary Revision. Any eligible citizen can also enrol in www.nvsp.in, www.voterportal.in, Voter Helpline Mobile App or submit application forms to the concerned Booth Level Officer (BLO) or Electoral Registration Officer (ERO).
During continuous updation, about 80,365 forms were received from January 15 till date wherein about 25 per cent of the application forms are received online. The number of forms received from January 15, 2021 till September 22, are Form 6 – 22,438, Form 7 – 7m316, Form 8 – 49,689 and Form 8A – 1192.
He also said that proposals for rationalisation of polling stations have been received from the district election officers. A consolidated proposal was sent to the Election Commission on September 22. He asserted that maximum efforts have been put into to shift the old and dilapidated polling stations to good condition polling stations by making field visits by the DEOs and EROs and in consultation with the political parties.
As per ECI Instruction, new polling stations have been proposed for those polling stations having more than 1,200 electors. In order to make polling stations more accessible to the voters, polling stations are also proposed in such a way that a voter does not have to walk for more than 2 Kms. In total, an additional 64 polling stations are proposed and sent to ECI for approval.
He announced that EVMs have been distributed to all the districts. First Level Checking of EVMs will start from October 4 in all the districts. For this, 32 engineers will be deputed from Electronics Corporation of India Ltd (ECIL), he said.
For the first time in the country, an additional Pre-FLC shall be conducted with the help of FLCU machines in Manipur and Goa. In addition, the usual manual FLC shall also be conducted. The entire process of FLC shall be webcasted for monitoring by the chief electoral officer and ECI. All necessary arrangements have been made. All DEOs and Dy DEOs attended a workshop on FLC organised by ECI on September 17. Training for FLC Supervisors will be held on September 25 at the office of chief electoral officer's office.
First Published:
Sept. 23, 2021, 11:53 p.m.