SSC Porompat tame Sagang YC by 11-5 goals in 1st Col Arunkumar Memorial Futsal Tournament
Md Irshad Alam proved to be a nightmare for the opponent Sagang YC as he calculated his move with precision to bang home four goal
---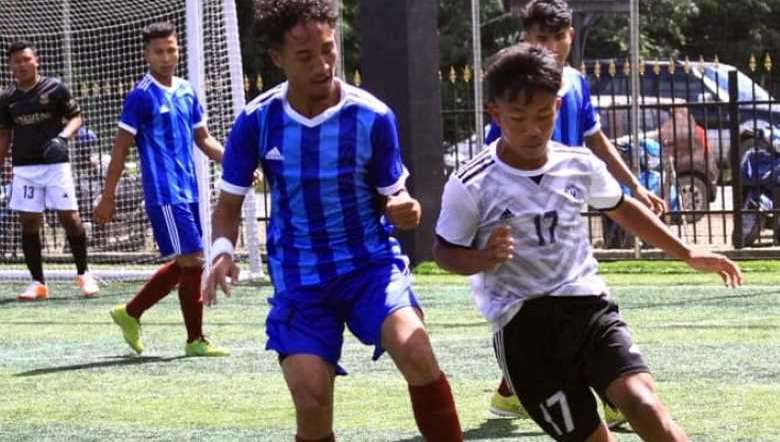 (Photo: IFP)
---
Star Sporting Club, Porompat came up with a huge win of 11-5 goals against Sagang Youth Club, Moirang in the 1st Col Ksh Arunkumar Memorial Futsal Tournament 2021, played at Poloi Artificial Turf, Chingarel Tezpur.
Md Irshad Alam proved to be a nightmare for the opponent Sagang YC as he calculated his move with precision to bang home four goals, to dictate terms in the match.
Sagang YC, which had a winning run yesterday, was in a tight position but they put up a brave face scoring two goals in the first twenty minute from L Lamminhao and K Helenson Kom.
However, SSC Porompat, making some witty run, consolidated with Md Afzal fetching two goals while Md Ishaque, Jims Raikhan and Md Lucky Khan chipping in with a goal each.
The Sagang Youth Club managed to add three more goals from K Helenson, Levion Oliver Kom, Pearson Singh.
In the other matches, Pamyal Patsoi drubbed Ground Development Committee, Thinungei by 11-6 goals while MCK Bishnupur beat RAU Lairiyengbam Leikai by 10-9 goals and KYVO Bishnupur thrashed SDC Samurou by 14-3 goals.
First Published:
Sept. 23, 2021, 11:21 p.m.