Opposition parties in Manipur join 11-day nationwide protest against BJP government
Manipur Congress president N Loken Singh said the BJP-led coalition in the state is also no different from the one at the Centre in terms of misgovernance.
---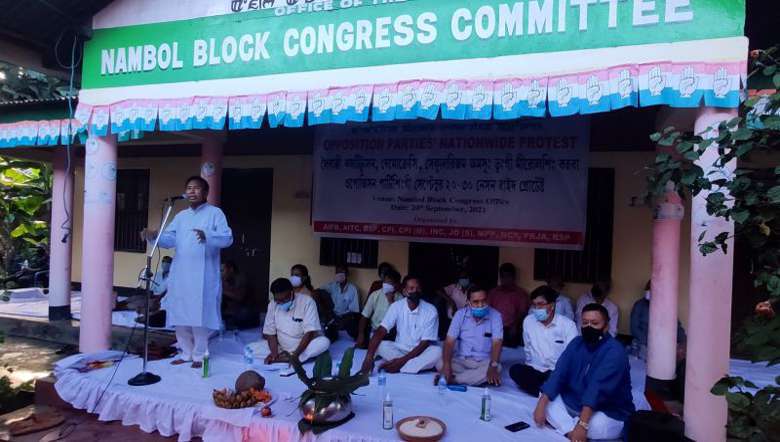 (PHOTO: IFP)
---
Eleven Opposition parties of Manipur kicked off an 11-day protest on Monday at Congress Bhawan, Nambol, as a part of the nationwide protest called by 19 opposition parties against the policies of BJP government.
A sit-in demonstration followed by a public meeting was held marking the launch of the 11-day protest. Representatives of all the 11 parties-AIFB, AITC, BSP, CPI, CPI(M), INC, JD(S), MPP, NCP, PRJA and RSP-attended the demonstration.
Speaking during the meeting, MPCC president N Loken Singh opined that the nation has been suffering since the Modi-led BJP government came to power in 2014.
Loken termed the BJP at the centre as a pro-corporate having no regards for the common people of the nation.
It is high time to bring down this government before it jeopardises the entire democratic set up of the nation, he said and urged for a collective effort to do so.

Loken said the BJP-led coalition in the state is also no different from the one at the Centre in terms of misgovernance. The state's economy is worsening every day.
Although farming and its allied sector is the backbone of the state's economy, many farmers are running from post to pillar in search of a market to sell their produce. The main reason behind this is the lack of proper market strategy and mechanism to control import of items, Loken contended.
The MPCC president also mocked the state for its inability to complete developmental works already taken up by the Congress government. "Most of the developmental works claimed to have been taken up by the BJP Government are actually projects started by Congress. The present government cannot even complete one-third of the projects being implemented by Congress", said Loken.
L Sotinkumar, secretary CPI Manipur alleged the BJP government of diluting the constitution, democracy, secularism and federal structure of the country to propagate the agenda of RSS.
He said the opposition parties have been demanding a proper discussion of major issues like pegasus spyware, new farm bills, mismanagement in combating COVID-19 pandemic, price hikes among others on the floor of the parliament. But, taking the advantage of being the majority, the BJP government is turning a blind eye, making a mockery of democracy, alleged Sotinkumar.
The opposition parties informed that similar demonstrations, meetings among others will be organised in different parts of the state.
First Published:
Sept. 20, 2021, 11:02 p.m.