Heirok Mandal Pension Scheme launched
The scheme was launched during the birthday celebration of Pm Modi that was held at the residence of MLA Thokchom Radheshyam at Heirok on Friday.
---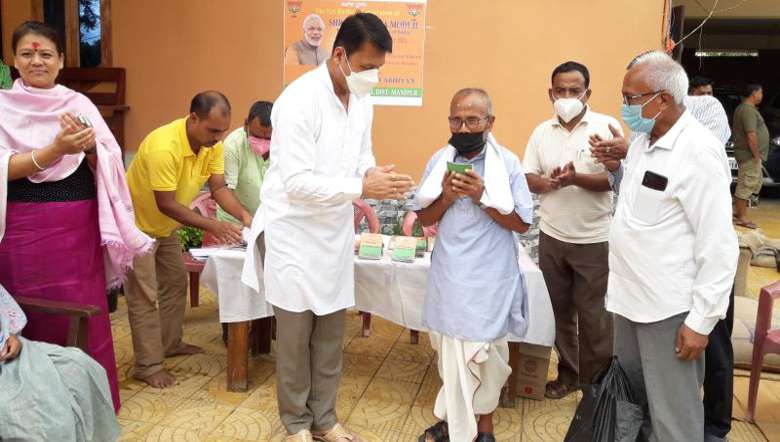 (PHOTO: IFP)
---
On the occasion of the 71st Birthday of Prime Minister Narendra Modi, the BJP Heirok Mandal has launched a scheme "Heirok Mandal Pension Scheme".

The scheme was launched during the celebration that was held at the residence of Member of Legislative Assembly, Thokchom Radheshyam at Heirok on Friday.

The pension scheme covers the old aged that had never got the benefit from the government as well as the differently-abled persons with widows benefitting Rs 200 per month. As many as 1,500 persons will be targeted to be given benefit at the  scheme.

As a part of "Seva aur Samarpan" organised by BJP Heirok Mandal, celebrating the birthday of Narendra Modi, MLA Radheshyam also distributed 10 kilogram of rice each to the beneficiaries.
Speaking at the occasion, Radheshyam said that the Prime Minister began his life as a layman but service with dedication is his main motive. "I am not the Prime Minister, I am the prime sevak of the people " is his frequent expression. He is the one who can think of the situation that is happening in the poor family as his own. PM Modi is a person who is always ready to help the poor and needy, Radheshyam said.
The MLA further stated that, following the philosophy of Narendra Modi's concept of sacrifice and service, BJP Heirok Mandal of Heirok AC pledged to give benefit to the old aged, widows and differently-abled persons. Let all the people of the AC share whatever we have and help each other to all extent. Let servitude be our motto, Radheshyam said.

President Th Chourjit, Secretary N Brojen, Convener Laishram Rajmani of Heirok Mandal and Social Welfare Nominee M Tomba and prominent persons also attended the event .
First Published:
Sept. 17, 2021, 5:17 p.m.