Awareness programme to tackle pest attack on yongchak held
Yongchak is one of the important cash crops.
---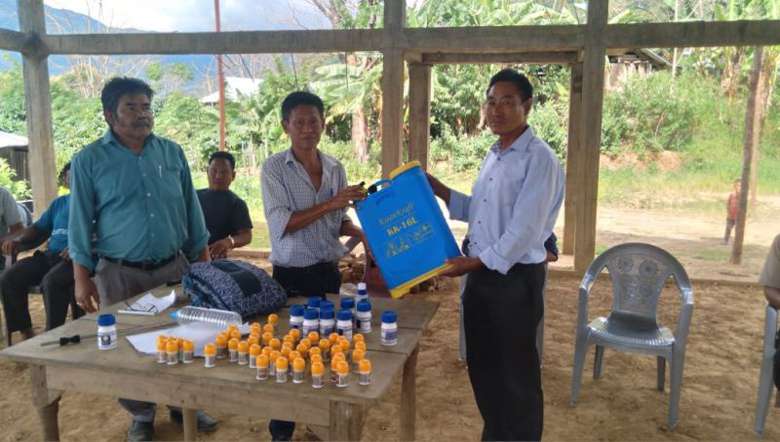 (PHOTO: IFP)
---
Following reports of insect infestation of Yongchak trees (Tree Bean) in Willong Khunou village of Senapati district in Manipur, a one-day awareness programme on management and control of pests was organised in collaboration with the villagers on Thursday.
During the occasion, experts from Krishi Vigyan Kendra (KVK) Senapati and e-loumee, a platform for agricultural service to farmers in Manipur gave recommendations for preservation of the biodiversity and ecology apart from taking up remedial measures in controlling the pest attack on yongchak (Parkia Speciosa).
Yongchak is one of the important cash crops in the village where almost all the households have yongchak trees in their courtyard or backyard.
ALSO READ: Insect infestation wreaks havoc in Manipur's Willong village
However, almost all the flowering yongchak trees grown in and around the village have been completely destroyed following an invasion by loopers. As a result, the villagers have been spending sleepless nights to control the looper attack.
At the day's awareness and pest management programme, the visiting experts also distributed sprayer and insecticide (Emamectin Benzoate and Chlorpyrifos) to the villagers.
Supplementary pesticides were also distributed on behalf of the nodal officer (SAMETI) Th Joyprakash, department of Agriculture. It may be mentioned that the district horticulture officials have been extending necessary help in controlling the invasion by spraying the pest infested yongchak trees with the effective pesticides since the last few days.
First Published:
Sept. 17, 2021, 12:47 a.m.