'Poshan' not limited to Anganwadi: Union WCD Minister Smriti Irani
Irani is on a two-day visit to Manipur to attend a series of programmes as part of the ongoing 'Poshan Maah'.
---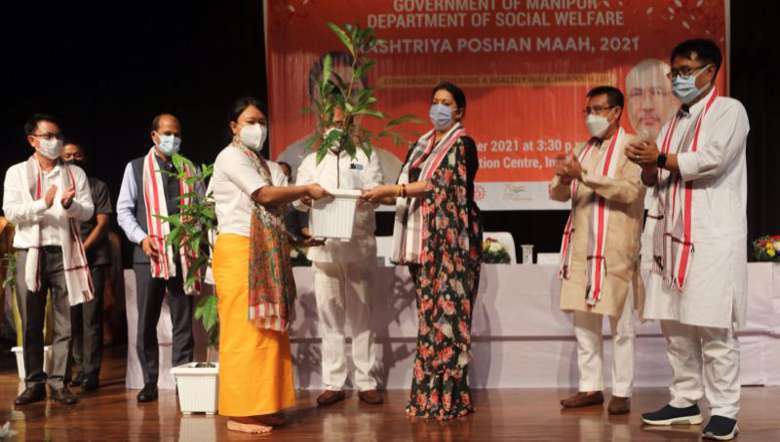 (PHOTO: IFP)
---
Union Women and Child Development Minister Smriti Irani said that Poshan is not just limited to Anganwadi as it is a peoples' revolution, a people's campaign
The union minister was speaking at an event on Rashtriya Poshan Maah under 'Azadi Ka Amrit Mahotsav' at the City Convention Centre in Imphal on Saturday.
Poshan Abhiyaan is government of India's flagship programme to improve nutritional outcomes for children, adolescent girls, and pregnant women and lactating mothers, the union WCD minister said. It was launched by Prime Minister Narendra Modi on the occasion of International Women's Day on March 8, 2018. It is the Prime Minister's overarching scheme for holistic nutrition that directs the attention of the country towards the problem of malnutrition, Irani said.
At the occasion, the union minister remarked, "Very few of you would have noticed that six ministers were on the stage and one woman while another woman came and spoke about menstrual hygiene from using menstrual products etc. Once upon a time, there was a taboo on the topic of menstrual hygiene, no one talked about it openly," she said. She asked the people to ponder on how this change happened and how a woman has been enabled to make a presentation on such an issue in front of a chief minister.
Irani reminded that during 2012-13, the security of women was a big issue in the country. Of the total population of women, 45 per cent was sexually assaulted due to open defecation, she said. To combat that issue the Prime Minister Narendra Modi decided to construct 10 crore toilets for women.  In Manipur, more than three lakh toilets have been constructed, Irani added.
She informed that the Prime Minister had dreamt of providing support of Rs five lakh annually for medical treatment to 10 crore families. She further said that Manipur has provided benefits to 38,000 people of Rs 46 crore. "The Prime Minister has distributed free ration to 80 crore people in India which has not happened anywhere in the world. Manipur has also provided that to more than 18 lakh beneficiaries; 22 crore sisters got their accounts opened under Jan Dhan Yojana of which five lakh 80 thousand are in Manipur. A total of 22,000 women got 30,000 crore transferred to their accounts," the union minister said.
Meanwhile, Manipur Chief Minister N Biren Singh, speaking at the event said that Manipur has a culture and tradition of washing hands before food or meal. He also said that once upon a time in the state there was a system of doing toilets at corners of bushes but that toilet was different from open defecation. He also talks about measures taken up for women in the state.
He announced that before the election a scheme of installing menstrual napkin rooms will be launched in every school and college of the state.  
During the event director of AYUSH A Guneshwar talked on 'Best AYUSH practices for better nutrition';  state nodal officer of child health A Sylivia Devi talked on 'Detection and prevention of Anaemia';  state nodal officer of adolescent health and RKSK Jubilee Wahengbam talked on 'Menstrual hygiene of adolescent girls'.
The Union minister distributed medicinal plants, nutri-kits to Anganwadi workers or helpers in a programme on Rashtriya Poshan Maah.
The Rashtriya Poshan Maah celebration was attended by Rajya Sabha MP Sanajaoba Leishemba; Konthoujam assembly constituency MLA Sapam Ranjan; Education Minister S Rajen; social welfare director Ngangom Uttam; Ministry of women and child development, government of India secretary Indevar Pandey.
First Published:
Sept. 11, 2021, 10:09 p.m.